Career Development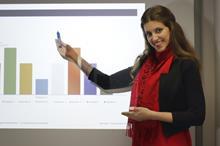 In the first of a CPD series, Ian Jerrum, MD of Searchlight Insurance Training, explains how to create a perfect PowerPoint presentation
People Moves
Zurich UK chief executive Tulsi Naidu, who is also the trustee of the charity Pilotlight, looks at how professionals can share their talents and expertise

In the first of a CPD series, Ian Jerrum, MD of Searchlight Insurance Training, explains how to create a perfect PowerPoint presentation

French insurer AXA appoints dedicated innovation chief executive to drive global digital transformation

New directors will support company's growth plans

Role became available after Charles Roxburgh was named as second permanent secretary to the Treasury

James Trainor most recently led the cyber division at FBI's headquarters

Kinetic was bought by Torlea Group in the beginning of October

Decision is driven by desire to make room for next generation of insurance professionals

Chris O'Shea joins the insurer from Ariel Syndicate 1910

Steven Zuanella will join the insurer next year

Willis says adults with ASD thrive in certain skills

The new role has been created to respond to changing nature of cyber risk

Insurance law firm says new appointments shows commitment to growth

Changes include new role and redefining of major loss cases

Alistar Body has joined Momentum as business development director

Syndicate 1884 outlines new underwriting appointements and risk covers 

FTSE 100 chief executives were paid an average of £5.48m in 2015, up 10% on the £4.96m they were paid the previous year, according to research by the High Pay Centre.

Marsh has hired Chris Milnes to head up its Carlisle and Newcastle offices.

Affinity insurance broker Hood Group has appointed Mark Hunter as finance director following the retirement of Bob Gildie.

Barbican Insurance Group has announced that Olivier Decombes will join as divisional head of energy, power and utilities.