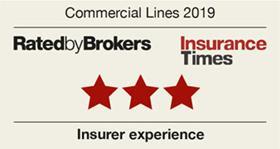 AXA has been awarded an overall three-star rating by UK insurance brokers. Brokers felt they received a four-star service in access and the quality of cover customers. But they felt the areas of claims, underwriting and documentation needed improvement. The small independent broker segment gave AXA four stars.
Feedback
Have your say on how you rate this insurer. If you are a broker click here to add your feedback.
If you are already a subscriber click here for a more detailed breakdown of star ratings by service factor and broker segments as well as to see league tables and performance scores for all insurers included in the survey. To subscribe for instant access to this extensive library of Five Star rating information and the comprehensive 24/7 Insurance Times business intelligence package click here.
Below is an example of this valuable subscriber-only content - the Five Star rating for the Claims service factor - and a few of the verbatim comments on this insurer from the brokers we surveyed. If you are a broker click here to have your say - and to see the latest market feedback.
| Service factor | Rating |
| --- | --- |
| Claims: Fairness of settlement & speed | |