Esure grapples with June weather hit, lower reserves and dividend cut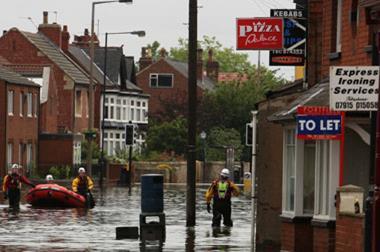 Esure underlying profits fell 1.9% to £45.6m and group combined ratio worsened 3.9 percentage points to 99.2% amid a hit from the June weather claims.
The Reigate-based insurer said the June rain deluge meant claims were £3.3m ahead of expectations, compared to a benign period in the first half of last year.
It meant Esure home combined ratio fell into negative underwriting territory 105.5% (H1 2015: 82.7%) as the loss ratio worsened 14.9 points to 66.8%.
In motor, Esure improved combined ratio to 97.9% in the half-year (H1 2015:98.4).
However, reserve releases in motor diminished by more than half, from £30.4m to £13m.
Esure also cut its dividend 29% as it looked to preserve capital from Solvency 2.
A bright spot for Esure was Gocompare, with revenue up 22.3% to £72.9m and profits up 9% to £14.5m.
Esure has been the subject of takeover speculation since it announced in June a strategic review of Gocompare with a view to a possible disposal. Private equity firm KKR was reported to be interested in buying the whole group, and founder Peter Wood was said to be considering selling his 30% stake.
Esure chief executive Stuart Vann said: "It is also pleasing to be reporting an underlying profit before tax of £45.6 million, despite the adverse weather events in the first half of the year.
"In Gocompare.com we have delivered excellent revenue growth of 22% and continue to drive the business forward through improved marketing, a strengthened management team and focus on a wider product offering."
| | 2016 (H1) | 2015 (H1) | % change |
| --- | --- | --- | --- |
| GWP | £320.4m | £275.5m | 16.3% |
| In-force policies | 2.076m | 2,001m | 3,7% |
| COR | 99.2 | 95.8 | +3.4% |
| Profit | £45.6m | £46.5m | 1.9% |
| Interim dividend per share | 3p | 4.2p | -29% |
| | | | |