Government reveals why Personal injury CMC sector sector continues to shrink
The revenue of personal injury claims management firms has fallen nearly a third in the past year, the Ministry of Justice says.
Personal injury CMC turnover for the 2014 to 2015 year was £310m but that has dropped to £215m for the 2015 to 2016 year.
"The turnover for the personal injury sector decreased by almost a third to £215 million due to the ongoing challenges in the market following the 2013 reforms and reduction in the number of CMCs operating in the sector (which was larger than the financial claims sector)," the report says.
As a consequence of the tougher legislation and regulation of personal injury, claims managers are shunning personal injury, their once dominant source of income, and turning to financial product and services claims such as payment protection insurance, it states.
The number of claims management firms operating in personal injury is falling (see below). New autorisations per month are also dropping (see bottom)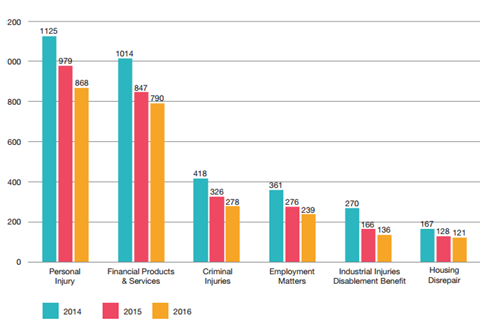 Overall, the total revenue of CMCs - which includes financial services, employment and criminal injuries – fell marginally from £697.6m to £751.6m.
The MoJ report stressed that it was cranking up its efforts to crack down on nuisance calls.
It was conducting more audits, up from 102 to 111, and more warnings were issued, up from 30 to 48.
"We have also been targeting CMCs operating call centres identified as misleading consumers and encouraging them to make a personal injury claim even though they have not been injured in an accident.
"Information provided by consumers suggest that in such cases they are typically pressured and told that money has already been set aside for them to claim," the report states.
The MoJ said it was working with the FCA to deliver a beefed up regulatory regime programme for when the regulator finally takes over supervision of the sector.