The men behind the shake-up of Ageas's retail business explain how the new commercial unit will work – and how recent purchase Kwik-Fit fits in
Brendan Devine will have trouble forgetting 4 August 2010 – the day that Fortis's £215m deal to buy Kwik-Fit Financial Services went through – and not for purely business reasons.
Devine, who at the time was Kwik-Fit's chief executive, had taken the day off to go paintballing with his son. "Before I did it, I had a pretty bad feeling about it," he recalls.
His hunch was proved correct when he slipped, landed on his rifle butt and fractured his shoulder. "They [Fortis] must have been thinking, 'what the hell?'" he says, adding that it is the "first and last time" he will go paintballing.
Devine only took three days off, including one for an operation. But while the injury has kept the 43-year-old off his beloved golfing greens, he has been more than busy at the office.
In January, Ageas UK – as Fortis had recently been rebranded – announced that Devine was taking a new role as commercial director of its retail division. In this post, Devine reports to UK Retail managing director Andy Watson. Hot on the heels of the shake-up, Insurance Times caught up with Devine and Watson to find out how the new regime at Ageas Retail is going to work.
The relaxed approach
First things first, how do they get on? "It's very relaxed – we're pretty similar minded people," says Devine. "There was a clearly a strong rapport early doors. Andy's management style is to let you get on with it, make sure you don't screw up and keep him informed."
In addition to what Devine describes as naturally impatient natures, the two men share a common background in banking. Devine arrived at Kwik-Fit a couple of years ago after spending the bulk of his career at GE's credit card business. The 48-year-old Watson, meanwhile, was head of UK insurance at HSBC Insurance before taking his current role at Ageas almost exactly a year ago.
Devine says he was surprised by the insurance world's collegiate atmosphere – at least compared with banking. "I couldn't get my head around it. I would see a competitor and my first instinct would be to have a fight," jokes Devine. "He is from Glasgow," chips in Watson. Devine continues: "But you end up building good relationships. I would count Peter [Halpin] from Swinton as a good friend, even though he is a direct competitor."
The Kwik-Fit acquisition effectively doubled the size of Ageas's retail business. Each of its broker businesses – over-50s specialist RIAS, Ageas Insurance Solutions (formerly Outright) and Kwik-Fit – will retain operational independence under a managing director, who will be responsible for profit and loss accounts, strategy, and all customer-facing activities.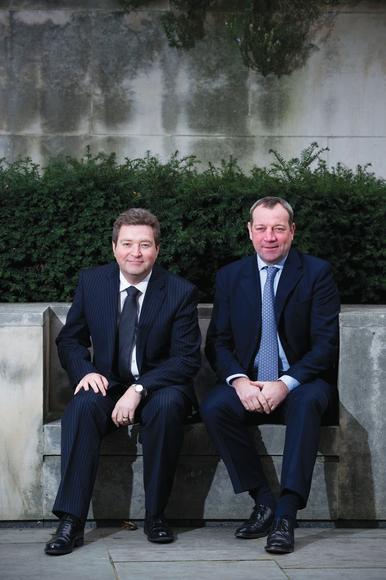 Watson says that there are no plans for redundancies or major internal restructuring. "Service and sales are sufficiently close to the brands that it makes sense to keep them there," he says, emphasising that Ageas does not want to put its new acquisition in a straitjacket. "We bought Kwik-Fit because we thought it was a good and profitable business. Funnily enough we have no plans to change any of that."
However, that does not mean that Ageas is not interested in using the bigger negotiating clout that the Kwik-Fit acquisition has delivered. "There have been situations where aggregators have realised that Ageas is probably their largest partner," says Watson, adding that the company is not currently presenting itself in its true light as the UK's fourth largest personal lines broker.
This is where Devine's role comes in. The new commercial unit will represent the three broker business units to external partners. Instead of the individual broker businesses having their own conversations with aggregators and other insurers, they will speak with one voice, although each will still negotiate its own rates.
"The three businesses will still operate independently, so there's no change from that point of view. It's just that we can have a more joined-up approach to our commercial activities," says Watson. In addition, Devine's unit will pool pricing information from across Ageas Retail's businesses in order to better tailor its rates to individual customers.
Ahead of expectations
Devine is clearly proud of the job he did at Kwik-Fit, but professes now that he is ready for a change. "I've run companies, I've done that," he says. "This is a different remit, but it's something that interests and excites me."
As for passionate rugby union fan Watson, he says he is "absolutely" happy with the amount that Fortis paid for Kwik-Fit, despite market mutterings that it was over the odds. So far, he adds, the business has performed ahead of expectations.
Devine adds that Kwik-Fit's long established business model, under which it reaps much of its profit from cross-selling ancillary products to insurance customers, is "holding up", although he acknowledges there has been a "slight" 1%-2% rise in cancellation rates.
He also dismisses the notion that the planned sale of Kwik-Fit's old parent business could have knock-on consequences for the company's strong brand as a motor broker. There is little chance, he argues, that any buyer would drop the Kwik-Fit name. "It's such a strong brand that it's doubtful that the brand would disappear from the high street," he says, adding that Ageas has the licence on the name for the next 10 years.
Watson also points out that Ageas has an agreement guaranteeing access to the customer data that Kwik-Fit receives from its former parent's tyre and exhaust centres – a crucial source of leads for the broking business.
But how about the inevitable suspicions that Ageas Retail is merely a distribution funnel for its insurer parent's products? "It's an absolutely fair question and one we have been conscious of before and even more conscious of now," Watson says. He insists that for the three broker brands, Ageas is merely another panel insurer, albeit an important one.
"The intention is not to have favoured treatment for AIL [Ageas Insurance Ltd] within the Kwik-Fit brands and panels," he says. "Other insurers know what the situation is and there is no cherry-picking."
Devine backs him up: "Before the acquisition happened Barry [Smith, Ageas UK chief executive] and Andy were at pains to say that nothing would change, and it hasn't. If anything, Ageas's share has gone down a bit."
Ultimately, Watson insists, Ageas Retail will stand or fall on its own account. And he says the retail business's results are less volatile than its insurer arms, so should help to stabilise the wider group's performance. "We're a retail business – we will do whatever is right for the interest of the retail business and AIL is cognisant of that." IT