Insurance Times takes a closer look at Edmund Truell's plans to spend up to £2bn buying motor insurers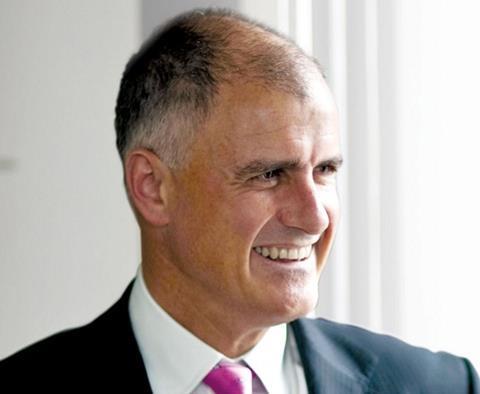 Private equity entrepreneur Edmund Truell (pictured) is planning to shake up the UK car insurance market by buying a mot
or underwriter, combining it with telematics, and launching a next-generation insurer.
Truell said he had up to £2bn at his disposal to buy companies through his new venture Tungsten Corporation. He is understood to be interested in Equity Red Star and Direct Line Group (DLG), and is also believed to be talking to a further four insurance companies.
As the potential target list suggests, Tungsten is aiming high and hoping to buy a company with substantial premium volume.
Truell told Insurance Times: "There are some smaller new entrants that are keen to be acquired, but that doesn't really float our boat. We are not particularly interested in buying a new, innovative company that has 50,000 policies."
Quick moves
The aim is for Tungsten to complete an acquisition by the end of the first quarter of 2013. Truell plans to add his purchases to the controlling stake he and his brother Danny, also a director at Tungsten, have taken in telematics company Lysanda.
Truell said: "The effort up until now has been securing the technology platforms, which we have done, and we are already in negotiations with a couple of insurers to see whether we can acquire a significant book of business that we can migrate to our new platform."
Tungsten is looking to be far more than a silent partner in its new insurance venture. Truell said: "We are not just going to be investors, we are going to be very much hands on. You can think of me as group chief executive."
UK motor insurance may not be the most obvious choice for an entrepreneur given its poor record of profitability.
The UK motor insurance industry's collective combined ratio in 2011 was 106% according to Deloitte. While this was an improvement on 2010's 120%, price increases are slowing and there is a fear that 106% could be as good as it gets.
We are not just going to be investors, we are going to be very much more hands on. You can think of me as group chief executive"

Edmund Truell, Tungsten Corporation
But Truell said there were sound reasons for his interest in the sector.
First, because of the market's well-documented difficulties, it is a "target-rich environment" so it should be possible to pick up motor insurance assets at a reasonable price.
"We have 53 possible acquisition targets on our deal list, so I don't think we are going to have to pay more than net tangible assets (NTA)," Truell said.
But he is also wary of underpaying for insurance assets. "We don't really want to pay more than NTA. Equally, we have got to be realistic about the floor on that. If you are able to buy assets at 50p on the pound, either the NTA is wrong and the vendor should be running the business off, or the business is up a gum tree."
Second, Truell hails telematics as a "significant game-changer" for the motor market. He said: "The technology is now there to assess people's actual driving styles and risks, rather than just saying 'you're 21 years old and therefore we're going to put a high premium on you'. It is that technology-driven insurance we are particularly attracted to."
Tungsten intends to use technology to create what Truell calls a "service-driven culture" at the resulting insurance group. "We have the technology platforms whereby we can use the latest, best-in-class technology to provide a better underwriting outcome for insurers, and a higher service level to the vehicle user."
A strong team
Truell is not heading blindly into the motor insurance industry. He had a hand in creating one of the insurers potentially on his target list. As head of private equity house Duke Street Capital, he led the acquisition of Lloyd's insurer Cox Insurance Holdings (since renamed Equity Insurance Group) in 2005.
He also believes his senior team will help overcome the challenges thrown at him. Tungsten's chairman is former Achmea executive board chairman Arnold Hoevenaars and Truell's brother is chief investment officer of Wellcome Trust and Truell's other vehicle Pension Corporation.
Truell's plans in the insurance market are ambitious and risky, and some are sceptical he will pull it off (see panel, left). But with this backing he has a chance of making it work.

Reaction: Sceptics and supporters
Perhaps not surprisingly given its ambitious nature, some observers are sceptical that Edmund Truell will pull off his goal of establishing a telematics-driven motor insurer.
The motor market enjoyed a strong run of rate increases in 2010 and the first part of 2011, but these started to tail off towards the end of last year.
This is not good news given that the price increases were designed to offset the trend of rising bodily injury claims.
As one industry observer said: "He's going to need some big balls to take on the volatility of the market."
As an entrepreneur, Truell has a wide-ranging interest in financial services and a series of other plans on the boil. This has led some to suggest some of his plans will not come to fruition.
Another observer said: "I would take things with a pinch of salt until anything is actually delivered."
Furthermore, Truell is placing much stock in telematics, which according to some is no silver bullet. "Telematics has a mixed track record and a number of issues," the second observer said. "If it was a game changing must-have, then insurers like Aviva would have gone down this route earlier."
But those who have worked with Truell said he is not to be underestimated. Hastings chairman Neil Utley, who as former chief executive of Cox Insurance worked with Truell to take that company private, describes him as "bright and hugely insightful".
He added: "If he is coming into this market I'm sure he'll find a way to do it."
Timeline: The rise of Edmund Truell
1994: Truell is named chief executive of Hambro European Ventures
1998: He leads the buy-out of Hambro European Ventures to form Duke Street Capital
2000: He creates Duke Street Capital Debt Management
2005: Duke Street teams up with then Cox Insurance chief executive Neil Utley and Englefield Capital to take Cox private
2007: He sells stake in Duke Street to form Pension Corporation, a provider of pension solutions
2012: Truell creates Tungsten Corporation and Disruptive Capital Finance to seek investment opportunities in financial services
Telematics: driving a service culture?
In his bid to build a next-generation insurer, Tungsten's Edmund Truell is looking to fuse insurance purchases with telematics from technology company Lysanda.
According to Truell, the Lysanda technology does not require expert installation unlike many of its competitors. Instead it relies on a 'dongle' akin to a USB memory stick, which can simply be plugged in.
A driver buying a new car would not need to go through the installation process again. They could simply unplug the telematics device from their old car and plug it into the new one.
This avoids the inconvenience and cost associated with having to have a telematics device professionally installed.
The plug-and-play installation is in keeping with the service-driven culture Truell wants. He said: "This is part one of service: don't make this difficult for the customer."
Telematics shows promise. Some consider it an antidote to the forthcoming European Court of Justice's gender directive, which will prevent insurers basing premiums on the sex of the policyholder.
Telematics allows insurers to tailor pricing to the policyholder's driving habits.
But the technology is still relatively unproved and faces questions about how and what type of data should be recorded.
Who's for sale
Direct Line Group net tangible assets at 30 June 2012: £2.5bn
The Royal Bank of Scotland (RBS) is selling Direct Line Group, formerly RBS Insurance. It includes household brands such as Direct Line Insurance, Churchill, Privilege and Green Flag.
IAG UK (Equity Red Star) net tangible assets at 30 June 2012: £130.1m
Australian insurer IAG is conducting a review of its UK arm, which includes Equity Red Star and broking units Barnett & Barnett and NBJ, for a possible sale after a string of bodily injury-related losses at Equity Red Star.
Esure Group Holdings net tangible assets at 31 December 2011: £139.2m
Personal lines insurer Esure was set up by Direct Line Insurance founder Peter Wood in 2000 in conjunction with banking group HBOS. Wood led the management buy-out of the HBOS stake in February 2010. It is planning to start looking at flotation from the end of 2012, but says it is in no rush to come to market.
Hastings Insurance Group net tangible assets: N/A
Hastings Insurance Group has been created from the combination of UK motor broker Hastings Insurance Services and Gibraltar-based motor insurer Advantage. It is looking to float, but its plans are on hold until market conditions improve.
What not to buy: Brokers and troubled markets
Truell has a number of ideas for Tungsten. But he is equally firm on what he will not buy. Despite the large number of potential targets and already high levels of merger and acquisition activity in the UK general insurance broking market, Truell has little desire to play a part here.
He said: "One is likely to pick up some distribution along with the underwriter, but that part of the market is in such turmoil with the Retail Distribution Review and everything else that we have to play to our strengths where we have got good experience and capability in asset and liability management. We want to use that to our best advantage."
And while Truell is looking to buy insurers in Europe, he will avoid the so-called peripheral eurozone economies of Portugal, Italy, Ireland, Greece and Spain.
He said: "I'm afraid to say we will not be buying a Greek motor insurer, even though I have been offered one."
Talking points …
● Despite it being a buyer's market with a number of targets on offer, will vendors be willing to sell their motor insurers to Truell at net tangible assets?
● Will telematics truly drag the UK personal motor insurance market into profitability from its current loss position?