Lloyd's latest blueprint will set out how the market will deliver on its core aims
Lloyd's has unveiled its two-year roadmap in its journey to transform the way the market will operate as it seeks to deliver on its plans to save £800 million in operating costs.
Fourteen months after Lloyd's launched its original blueprint for the market's future it has published Blueprint Two which sets out how it will deliver on its core aims.
The market has announced it would create a platform for complex risk, to better automate the process.
It will also create a risk exchange where standard risks can be transacted electronically.
It is also seeking to allow capital to quickly access the market and for firms to quickly create 'syndicates in a box'.
Claims systems will also undergo greater automation to speed settlement and Lloyd's say it will create a new ecosystem to enhance innovation.
Rebooting market efforts
Lloyd's says its Blueprint Two will deliver:
• Approved and clear data standards that will support the next generation of placement platforms and solutions at Lloyd's.
• A new Lloyd's marketplace gateway and super-fast processing capability that will allow cover to be evidenced and issued in minutes and simultaneously create technical accounting records.
• Automated claims recognition, routing and orchestration that will facilitate faster claims payments.
However, the market's aims are not without challenges.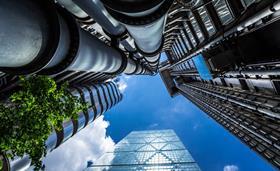 Christopher Croft, chief executive of LIIBA, said while change is needed, face to face placement of risks will remain.
"We are supportive of the broad ambition of the proposals in Blueprint Two," he added.
"There is no doubt that we cannot go on doing what we are doing today if London is to remain the pre-eminent global insurance centre.
"So, more efficient and effective approaches to processing, particularly to the way in which we move money between counterparties, is vital.
"Blueprint Two will reboot market efforts in this area. It is vital that, this time, we deliver.
"The proposals set out a plausible high-level direction. We now need to come together as a market, brokers, company market and Lloyd's, to develop this into a suite of services that works for our clients and which there will thus be an incentive to adopt.
"This must be an inclusive process with participation from across the communities. If you just build it, people are unlikely to come."
Croft added: "Given the complexity of business that comes to London, it will always be an intermediated market.
"And navigating that market to get the best deal for clients will rely on skills, expertise, knowledge and relationships that can only be developed through a physical presence.
"So, whilst the transactional part of the market will continue to be remote, trading will not. No wholesale financial service sector has left the City cluster after digitising – even if staff may be fewer in number. We wouldn't expect, for once, for insurance to be any different."
Charles Portsmouth, partner in the Insurance Practice at BDO said the market's plans are likely to open up areas of the market to brokers which traditionally do not walk the floors of One Lime Street.
"Covid has undoubtedly accelerated change in the market and the moves towards a remote underwriting operation," he explains.
Redefining the underwriting room
Technology will redefine the underwriting room with increasing levels of risk placed remotely, reducing the need for face to face interaction on many risks.
Whether this will impact the use of wholesale brokers in the market is still open for debate, but the direct placement of risks online will undoubtedly reduce the frictional costs of doing business added Portsmouth.
"Complex risks will always require a degree of face to face interaction," he added. "However, that can be achieved remotely as we have seen in recent months due to Covid."
The delivery of cross market standards will be key according to Portsmouth, given the need for the London market to move as one on process reform.
He added that the market was already on the way to driving tangible reform.
"The semi-remote underwriting room already exists given the events of recent months," Portsmouth said.
"Lloyd's needs to take the whole London market with them which is why a set of common standards rather than a standalone platform is a positive."
Paul Templar, chief executive of VIPR believes access will be key.
"The workstreams set out, once complete, will greatly enhance the way business can be conducted in Lloyd's," he said. "This is not going to happen overnight, and it will take some time before systems become well adopted.
"The traditional way of doing business is being discouraged in favour of this brave new digital world and whilst that's a good thing, we just need to make sure that the less technologically advanced coverholders and non-traditional Lloyd's brokers are not denied access to the market because they can't conform to the new way of doing business.
"If Lloyd's wishes to encourage the broader market, it is essential that they make the journey as easy as possible for these new players to gain access to systems and data.
'Real change'
"A worry would be that Lloyd's becomes overly prescriptive around data capture, which would make the cost of entry prohibitive."
Rob Dewen managing director of David Insurer Market Services said the move toward real change has begun.
"We are already seeing tangible signs of change and while the talk is of a journey it is already underway," he added.
"The market has said it wants to save £800 million in costs. That equates to 3% which is certainly achievable.
"It will be built on focusing on the added value tasks whilst technology supports those operations which lend themselves to automation."
Dewen said the focus on data is valid with the need to eradicate the need for rekeying as the risk makes its way through the market.
"Data standards will be a significant step forward and will require engagement from stakeholders across the market.
"Those standards need to be realistic and Lloyd's has recognised the fact that brokers and coverholders have to be part of the process."
Paul Latarche, chief commercial officer at Sequel, believes the blueprint needs to meet the targets it has set for the progress towards its final aims.
"London understands how technology and data can support its business so Lloyd's needs to keep the progress outlined in the blueprint on time and on track," he said.
"It is a positive that Lloyd's makes it clear that they are not looking to devise their own solutions rather ensuring firms can use the tools which best meet their requirements to engage with clients and the market. Using uniform data standards will be key to this."