Prosecution open their case against former DAS CEO Paul Asplin and five others over fraud
A DAS CEO conspired to defraud the business by arranging for the insurer to enter into contracts with companies he held an undeclared interest in, a court has heard.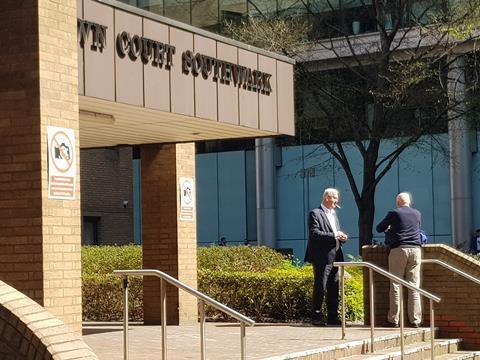 The jury at Southwark Crown Court today heard that between 2000-2014 Paul Asplin dishonestly failed to inform DAS of his one third ownership in Med Report Limited and CW Law, and subsequently took significant financial benefit from the companies through engaging in business with them.
Also standing trial alongside Asplin are his wife Karen Asplin, ex-wife Sally Jones, his friend Robert Dalley, former claims manager at DAS David Kearns, who like Asplin also held a 33% share in both Med Report and CW Law, and Kearns' wife Jayne Kearns. All except Mrs Asplin are accused of conspiring to commit fraud in regards of Med Report. Mr and Mrs Asplin and Mr Kearns are also accused of conspiring to commit fraud in regards of CW Law.
Prosecuting, QC Richard Whittam opened the case saying that Mr Asplin and Mr Kearns had attempted to hide their interests from DAS and showed prejudice to these companies to the detriment of DAS.
He said: "The financial benefit was deliberately concealed from DAS and that deprived DAS of the ability to hold open and fair negotiations in the contracts they went into.
"There was no full disclosure of the involvement and it was certainly secret from DAS they were making the money they were. Had DAS known how much money they were making through Med Report would they have continued with them on the same terms?"
Mr Asplin, Mr Kearns and Dalley founded Med Report in 2000, and Whittam read the jury minutes from the founding meeting in which it was revealed the majority of business was expected to come through DAS. It also confirmed each would have a one third share in the business, but that Mr Asplin and Mr Kearns would have their share held in trust.
DAS would contract Med Report to compile medical reports on clients submitting personal injury claims and pass them onto solicitors. While Mr Kearns was manager of the claims department, he gave 12,248 instructions to Med Report out of a total of around 13,000. Dalley later sold his share for £1.5m.
In 2002, Mr Asplin and Mr Kearns went into a partnership with law firm Culpen Williams, forming CW Law. The court heard about a series of payments that went on between the firms, and when CW Law was bought by William Graham Law in 2007, it was largely funded by a £3m loan from DAS.
The trial continues.