Warren Buffett's reinsurance operation not on the list of 'systemically important' firms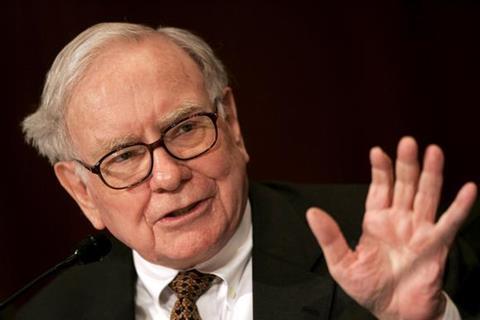 The Bank of England has written to the US Treasury to ask why Berkshire Hathaway's reinsurance business was left off a provisional list of 'too big to fail' reinsurers, the Financial Times reports.
The provisional list was drawn up by the Financial Stability Board, but the reinsurance division of Berkshire Hathaway, the conglomerate owned by billionaire investor Warren Buffett (pictured), was not on it.
Companies that the Financial Stability Board deems to be 'globally systemically important' could face tougher rules, including higher capital requirements.
Regulators have already put out a final list of nine primary insurance companies that are deemed 'globally systemically important', including AIG, Allianz, and UK life insurer Prudential.
But the final list of systemically important reinsurers has yet to be published. The Financial Stability Board had intended to make the list public last year, but announced in November that it had postponed the decision "pending further development of the methodology".