Alpha's collapse has left 10,700 drivers without insurance, leading to chaotic scenes outside Protector's London office and calls for government intervention
Over 250 taxi and minicab drivers gathered outside broker Protector's London office for the second day in a row, struggling to get insurance after the collapse of unrated Danish insurer Alpha.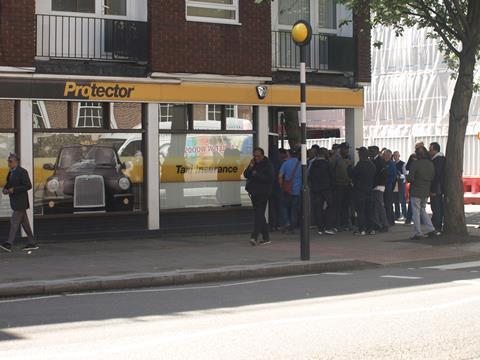 Most drivers had been queueing all morning, some since 6.30am.
Many had shown up yesterday, but seen huge lines and thought they would try again today.
Protector director Martin Harris said that staff had worked until midnight last night to clear as many people as possible, but there were reports from drivers that phone lines had been down and servers were broken, so they could not obtain a quote any other way.
This meant that they were forced to swarm to one of Protector's two offices or locate another specialist broker, as they could not place their insurance through direct channels.
The chaos is expected to continue for at least the "next couple of days" as drivers try to get covered so they can get back on the road, Harris confirmed.
One driver, who did not wish to be named, said: "I got a text and email at 10.30pm on Tuesday saying contact us urgently. I rang 128 times yesterday, so it can't be that urgent, because no one answered their phones.
"I was told there were 250 people lining up yesterday, so I thought better of it. I came down today, and it's no better.
"There is a lack of information coming through."
Premiums paid for up front
Many of the drivers gathered had paid for their annual premiums up front, but were now being told they would have to pay in full again with a different insurer.
Some were hopeful that they would be reimbursed by the FSCS, but others were less confident.
Information was slowly filtering through, but many found the news that they would have to pay again a grave and unexpected blow, especially after two days of being unable to work.
Drivers were alerted to the news by a text message on Tuesday night, with drivers reporting that they received this around 11.30pm.
Others reported receiving an email pointing them to the Danish regulator, but others said they had not seen this.
This was the only correspondence that drivers claimed to have received, leading to chaos and confusion.
Faced with an impossible choice
Another driver who asked not to be named commented: "If you didn't look at your phone, you wouldn't know. You would be driving without insurance and not know it."
Some were on the road with paying passengers when they received the text and felt forced to make a difficult choice.
One driver admitted that he had driven for 45 minutes after receiving the text, as he had to get home after dropping off passengers.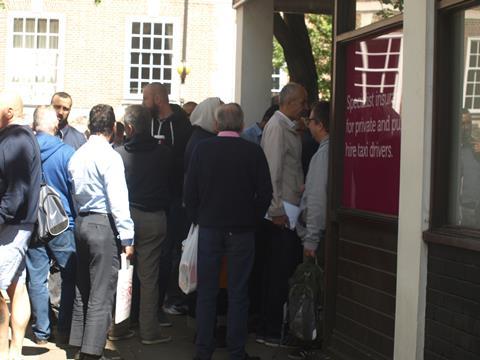 Another said he had made the same grim decision, driving 12 miles with no insurance.
Fortunately for both, they were not involved in accidents that evening.
One driver, who requested to remain nameless, added: "Most of us have the car on finance.
If you have an accident, your car is going to go. How are you going to carry on the finance for 10 to 24 months?
"They are pushing people into bankruptcy. There is serious anger."
Jakir Hussein – himself a driver – was accompanying his uncle, an Uber driver, to purchase new cover.
He said: "He only paid £4000 four months ago. He doesn't have any money to go somewhere else.
"If you pay the full amount of money, you don't pay the interest. So most of the drivers find that they save £1000 by paying the full amount up front."
The 56th person in line was called at 12pm.
Hussein's ticket number in the queue was 211 and he was not confident that they would be seen today.
Calls for government and industry action
Among the shouts of anger and frustration, drivers were calling for intervention from the government.
Zoubir Boulbina, a black cab driver from Richmond had only bought his annual policy three months ago and was going to be left thoroughly out of pocket.
He said: "What I don't understand is, this has happened. We are in the 21st century. We are a developed country. All the insurance companies are involved. The insurance companies are watching. All the politicians are watching. Why can't they do something for us?
"We just want to work. They should issue a certificate for a week or two weeks to cover us until things settled down.
"They say it is in a foreign country, but I don't care. I didn't know it was a Danish company."
His wife is in hospital and he is studying as well as working, but he said he has had to spend the previous days trying to phone Protector and queueing instead of working and being with his wife.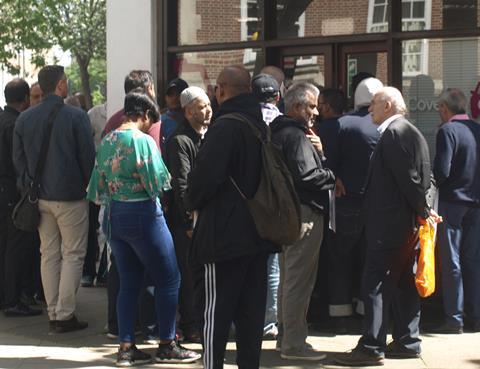 He does not know when he will be seen, or whether he will be seen today at all.
Boulbir added that he had friends who were affected by Enterprise's bankruptcy in 2016.
He remembers its collapse and the impact it had on them, and said if he had known that Alpha was not a British insurer then he would not have chosen to place his insurance with it.
No sign of stopping yet
The affected drivers have been left without insurance cover since Tuesday, when the Danish insurer was declared bankrupt.
Up to 700 taxi drivers and 10,000 minicab drivers are affected, according to the Licensed Taxi Drivers Association.