Between October 2010 and February 2012 seven collisions with First Buses in Chester were organised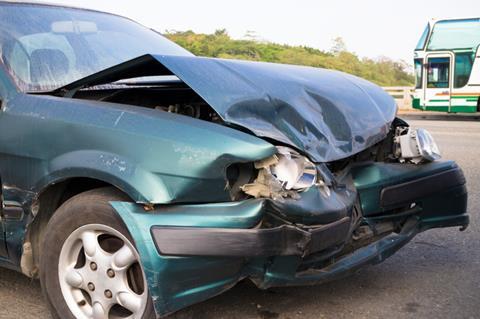 Fourteen people were sentenced at Manchester Crown Court on Friday 24 April for staging elaborate crash for cash scams totalling more than £1m.
Over a 15-month period between October 2010 and January 2012, the fraudsters orchestrated seven collisions with First buses in Chester.
The buses were loaded with passengers who submitted more than 200 fake personal injury claims totalling over £1 million.
In each case the driver of the car would admit full liability, allowing all of the passengers from the bus to submit personal injury claims.
In one of the incidents, despite the fraudsters' vehicle not having adequate insurance, the 'injured' passengers submitted their claims to the MIB's fund of last resort for innocent victims of uninsured drivers.
The ringleader, John Smith, was sentenced to six-and-a-half years for his role in the scam.
The IFB worked with First Bus and Cheshire Constabulary to investigate the series of bus accidents.
IFB director Ben Fletcher said: "Crash for cash scams have a real impact on society – lives are put at risk and ultimately honest policy holders are paying the price - and so it's heartening to see that the IFB and the industry's determination to disrupt this type of insurance fraud is reflected in this sentencing.
"These sentences send a powerful message to the public that if you are committing insurance fraud then the risk of being caught and prosecuted is very real.
"The resolve to fight insurance fraud through effective industry collaboration, as demonstrated in this case affecting First Bus, alongside partnerships with law enforcement, government and public sector organisations is making an impact to protect the honest consumer."
MIB chief executive Ashton West added: "Today's sentencing should serve as a powerful warning to would be fraudsters: that this crime is taken very seriously and that anyone caught can expect to be prosecuted."
Individual sentencing details
· Luke McQuillan, 40, received three years for his role as the bus driver in the Cliveden Road crash and an organiser in the Overleigh Road collision.
· Daniel Shaw, 28, received two years and six months as a would-be Cliveden Road bus claimant and as a coordinator in the Overleigh Road collision in which he was a passenger in the car driven by his father.
· Charlotte Watts, 28, the car driver in the Cliveden Road crash received 18 months.
· Andrew Shaw, 58, received an 18 months' prison sentence as the car driver in the Overleigh Road collision.
· Michael Gentile, 46, received 15 months for his role as a 'recruiter' in the Overleigh Road collision.
· Barry Cooper, 35, provided passengers for the buses and liaised with Smith. For the Shelley Road and Sealand Road collisions he received two years and nine months.
· Richard Flynn, 48, the car driver in the Sealand Road collision, received 18 months.
· Howard Christopher Taylor, 36, acted as a link between Smith and recruiter Jason Power on the Whitchurch Road, A41 Eastham and Liverpool Road crashes. He was given credit for a guilty plea but received two years and four months.
· Jason Power, 31, also pleaded guilty before the trial but was jailed for two years and four months.
· Dean Brown, 42, was the car driver in the Whitchurch Road crash for which he received 17 months.
· Christopher John Bethell, 30, was the driver in the Liverpool Road collision. Given credit for his guilty plea and previous good character, Bethell received 12 months' suspended sentence, with 250 hours unpaid work.
· Sean Kettyle, 43, a passenger in the car involved in the Liverpool Road crash and linked into bus passengers and other organisers, received 15 months.
· Mark Taylor, 48, pleaded guilty on the day of the trial before the jury had been sworn, was found to have a minor organising role and given a nine months' suspended sentence with 200 hours unpaid work.