The IT Pack is back this year courtesy of Insurance Times and Aviva. Young brokers can look forward to another exciting challenge to weed out the winner, who will scoop £1,000 of vouchers plus the chance to write a column for the magazine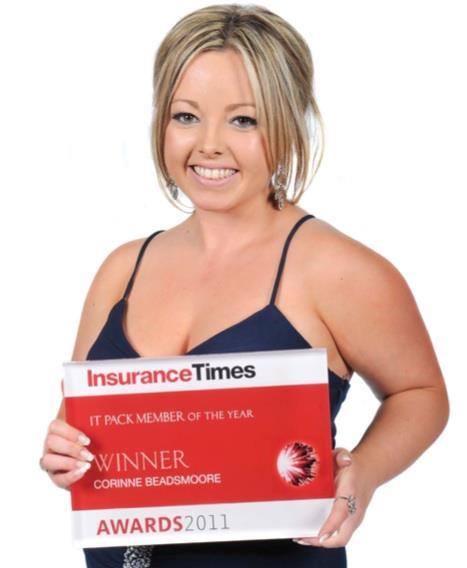 Insurance Times and Aviva are pleased to launch the IT Pack for the fourth year running. The IT Pack champions young brokers in the UK and is a nationwide search to find the rising stars of the industry.
Previous IT Pack winners and runners-up have enjoyed a raised profile, honed their insurance skills and received brilliant networking opportunities.
Brokers taking part in the IT Pack this year can look forward to an exciting and challenging process designed to select the best for the grand finale. The finalists will be entered into a challenge designed to test the IT Packers' teamwork and leadership skills.
Winner takes it all
This year's winner will bag £1,000 worth of vouchers, the chance to write a column for Insurance Times and the prestigious IT Pack Member of the Year Award at the Insurance Times Awards 2012 in December.
Last year's winner, Oval Insurance Broking project manager placement and development Corinne Beadsmoore, romped to victory after a two-day sailing challenge that saw the finalists working together under high pressure to demonstrate their business acumen and leadership skills.
Beadsmoore says that the main benefit of the IT Pack was the industry recognition it gave her.
"The main thing was the exposure, particularly in Insurance Times magazine, and the people I met through the process. I wouldn't have been able to meet them otherwise in my everyday job, so that was important.
"Winning the IT Pack member for 2011 has been the highlight of my short but rewarding career in insurance. After discussing the event with my line manager and attending it in London in March, I never imagined that it would lead to this conclusion."
Beadsmoore adds that winning the award was particularly significant because she was the first woman to do so. "We are very much in the minority in this industry, and if nothing else I want this to prove that insurance is a great career for all.
"It has boosted my profile within the industry, which is priceless, and I have met people whom I would never have had the chance to meet otherwise."
The main thing was the exposure it gave me and the people I met in the process"

Corinne Beadsmoore, Oval Insurance
Beadsmoore adds that the IT Pack experience has resulted in other benefits too.
"Winning an award always gives you the grounding that you're doing something well, so it did boost my confidence," she says. "Also it was nice to see the other finalists involved and what a high calibre of young brokers there are out there."
She says that the Aviva and Insurance Times judges were good, but tough. "They were brilliant, and very supportive throughout the whole task - while bearing in mind that they were our judges and did grill us from time to time."
Aviva intermediary and partnerships director Janice Deakin says: "Every time I meet the winners of the IT Pack, I am reminded of what a difference it has made to them as individuals and what a difference more people like them can make to our industry."
This year, the IT Pack is more accessible than ever. Young brokers can nominate themselves or be nominated by their bosses through the Insurance Times website: insurancetimes.co.uk/home/the-it-pack.
If you've got what it takes to be the IT Pack member of the year, or know someone who has, enter online now.
Why all up-and-coming brokers should enter the IT Pack challenge
Previous IT Pack winners and finalists have praised the benefits and experience they gained from taking part. This has involved young brokers competing in regional events around the country, showing off their skills and hearing presentations from industry experts and inspirational sporting personalities, such as former England rugby captain Kyran Bracken during 2010's IT Pack.
The 2011 highly commended IT Pack award went to Higos commercial account executive Rachel Wells, who recommends the challenge and said it let young brokers develop their skills and network.
She says: "It has given me more confidence in both my ability at work and when meeting new contacts. The IT Pack is a brilliant opportunity and I would strongly recommend it to any young brokers looking to broaden their skills and industry networking.
"You never know what amazing opportunities will come from the experiences you have."
The 2010 winner, JLT Specialty associate Leon Walker, says the IT Pack had an "absolutely stellar" impact on his career. "The IT Pack is a fantastic platform to recognise the achievements of aspiring young brokers in the insurance industry. Winning the competition has encouraged me to broaden my horizons and to be even more focused when setting my goals for the future.
"Simply being surrounded by brokers who were so driven and determined to achieve something big encouraged me to raise my game and push myself. The firm I work for has benefited as a result."
He adds: "That's what the IT Pack does for young brokers. You get a sense that the people you are working with will go on to shape our industry, such is the standard of the brokers involved."
The 2009 winner, Bloomhill Insurance Solutions managing director Matthew Stringer, found that the experience he gained from the IT Pack let him overcome many of the problems involved in starting his own firm aged just 21.
"I went into the IT Pack competition in 2009 as a start-up broker with no network of broking colleagues, and I had faced opposition from some insurers in granting such a young broker an agency," he explains.
"Being nominated as a finalist and winning the IT Pack member of the year took me by surprise and is a great honour."
Career doctor
Each month, Janice Deakin answers the burning questions from young brokers. This week: how to get ahead without upsetting others, and entertaining clients.
Q: I'm keen to further my career and have many ideas to improve business. However, I'm worried that I might upset other, sometimes more senior, staff if I'm too forthcoming. How should I conduct myself?
Janice: Be yourself and make sure that your ambition is driven by what you can do for the business, not what you can do for yourself. Make sure that you include people with you, and don't turn things into a battle. My personal view is that I am prepared to challenge thinking on a regular basis, but I do so in a non-threatening way - and I make sure I know my stuff!
Q: I'm really enjoying my client relationships but, on occasion, I've dined with a certain client who wants to keep the evening going when I have serious work commitments the next day. What should I do?
Janice: I have been in this situation many times. My decision to stay out later than intended is normally because I am frightened of missing something! The main point is that you do what is right for you and, remember, it will all be forgotten in the morning anyway.
Do you have a question for the Career Doctor? Send your workplace dilemma to rachel.douglass@insurancetimes.co.uk.
Here's how to send us your IT Pack entry
The IT Pack is open to all young brokers, who can either apply directly or be nominated by their boss. Entrants need to list their proudest achievement, discuss what they think are the big industry issues and attach their CV. Video entries are also encouraged.