Recent report highlights the potential benefits of robotic process automation for personal lines insurers
Insurers Direct Line, RSA, Allianz, AXA, Legal & General and Aviva could have the most to gain from robotic process automation (RPA), a report by investment bank RBC Capital Markets says.
RPA is software that can be used to perform rules-based tasks such as reconciliation processes and data entry. The technology is already readily available and some insurers are already using it. For example, US insurer Lemonade uses software in its claims process and has paid out a claim within three seconds.
The report suggests that due to decreasing costs of RPA and increased digitisation within the insurance sector, now would be a good time for insurers to take advantage of it. Personal lines insurers could stand to benefit the most from RPA, with those with new systems and more efficient digital platforms likely to find it easiest to begin using the software.
The use of RPA could eliminate the need for employees to perform repetitive tasks and cut costs. Other potential benefits include increased process speed, better accuracy and improved operational efficiency.
The areas of business most susceptible to automation, according to EY estimates quoted by RBC, are HR (50-60% of tasks could potentially be automated), supply chain (30-40%) and sales and marketing (25-35%).
Cost of robots vs human employees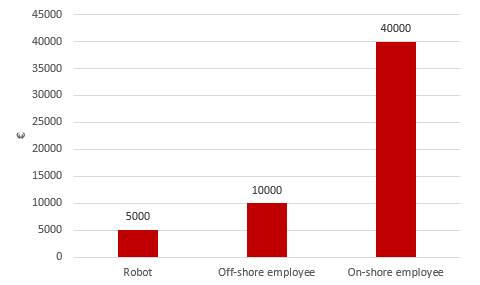 Source: Capgemini Robotic process automation – the next revolution of corporate functions
In one scenario, RBC calculated the savings that could be made by a hypothetical non-life insurer operating with a combined ratio of 95%. The number of staff working in back office functions fell 20%, while earnings improved by 36.9%.
EY estimates that the cost of one 'bot' is around 30% of that of an offshore worker, with the running costs decreasing to around 10-15% of this per annum. It generally takes around 6-8 weeks to fully implement a bot.
However, the use of RPA could also lead to job losses, reduced staff morale and increased stress levels. RBC suggests that the use of this technology will lead to companies and organisations boosting the skills of some workers, but if a business's main aim is to cut costs then it unlikely that all employees will reap the benefits of this.