Reinsurers were more willing to offer less restrictive cover at 1 January renewals, says Guy Carpenter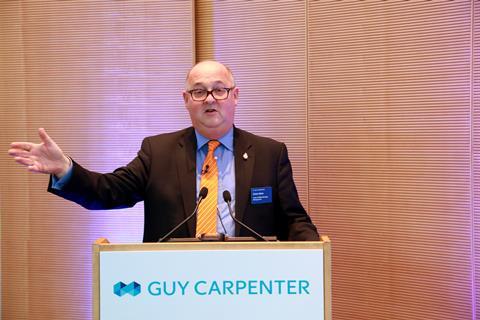 Reinsurers were more willing to offer less restrictive motor third-party liability cover to UK insurers at the 1 January 2016 renewals thanks to a fall in periodic payment order (PPO) awards, according to Guy Carpenter.
The provision of this capacity might continue to increase if PPO awards continue to fall, the broker said at a presentation on the 1 January renewals this morning.
PPOs compensate severely injured policyholders over the course of their lives, and so put insurers and reinsurers on the hook for payments for an indefinite period.
Reinsurers have become concerned about their exposure to PPOs in the UK motor market in recent years and have sought to address this by offering more restrictive cover, known as capitalised cover, to insurers.
Unlike a more traditional motor reinsurance policy, which supports the insurer for as long as it needs to make the PPO payments, capitalised policies contain a clause that annuls the policy after several years in return for a lump sum payment to the insurer.
They have been unpopular with reinsurance buyers in the UK.
Some reinsurers stopped offering traditional non-capitalised cover altogether. Guy Carpenter reported at last year's 1 January renewals that two reinsurers were no longer offering the cover.
At the presentation today, Guy Carpenter head of strategy management for UK and EMEA Chris Klein (pictured) said: "We are seeing a bit of a resurgence of non-capitalised capacity coming in. We think that might continue as a trend if the propensity for lower PPO awards continues."
Softening rates
Guy Carpenter also found that UK motor reinsurance rates softened at the 1 January renewals, echoing findings published by rival reinsurance broker Willis Re earlier this week.
Guy Carpenter said UK motor third-party liability rate changes ranged from increases of 7.5% to decreases of 7.5%.
This is a sharp contrast to last year, when changes ranged from 15% increases to 2% decreases.
Klein said the softening was caused in part by falling PPO awards and insurers boosting motor rates.
Motor third-party liability rates fell in all countries except Spain (see chart below), which saw increases of between 35% and 80% because of change in how bodily injury compensation rates are calculated.
Motor third-party rate changes, January 2016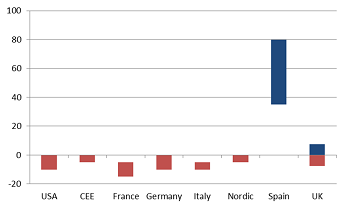 Source: Guy Carpenter