Both Skyline's founders have a long-standing background in insurance
Skyline Partners is teaming up with OneAdvent, a British MGA hub, for a "key investment" delivering parametric insurance and blockchain to support underinsured farmers in India from environmental catastrophe.
It was made during the Lord Mayor of London's visit to India, falling in line with his trade mission.
The funding will help the insurtech's business to grow.
The partnership will see OneAdvent support Skyline Partners in the development of its inaugural weather insurance product set to launch in 2019, which claims to provide affordable protection to the agricultural industry in India.
It aims to give the underinsured an "economical and reliable" way to secure their sustainability.
OneAdvent's chief executive, David Hill, said: "Skyline Partners' unique technological offering is unprecedented in this space and will undoubtedly be a game changer in an industry that is at a crossroads."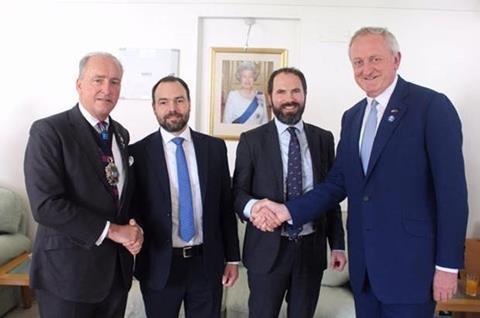 Protecting India's tea trade
Insurance Times caught up with Skyline Partners to discuss how the firm is helping farmers in India to protect crops from weather catastrophe.
The firm sees insurance as a service.
India is the focus of its launch, and plans to look at extending the product to other geographies thereafter.
Its founder and director, Gethin Jones, told Insurance Times the firm aims to target the underinsured using technology.
It partnered with IBM earlier this year using their Hyperledger for its administration policies. It's working very closely with them in building the platform. Its products are data driven parametric products.
He said: "If we can create products using data, we can create more value for the customer and align it with their risks."
To do this Jones and the firm's co-founder Laurent Sabatié visited Assam to meet tea farmers and get a better understanding of their needs, as well as meeting tea proprietors in March.
Jones added: "We see India as a massively underserved and under protected market. It's one of the fastest growing markets in the world. It's highly technologically advanced. It has a very large agricultural industry there and a renewable energy market which is obviously very effected by weather."
Sabatié commented on the penetration of technology in India being one of the largest in the world. In that sense the location "ticks all the boxes" for the launch of the product.
He sees the demonetisation of India's cashless society as a "positive thing" as it makes products more accessible to people.
The product is completely transparent for the customer and the insurer, and while traditionally the policy holder has to prove its loss and justify the reasoning behind it, Skyline Partners' model defines all of this upfront in real time.
Jones said: "With parametric insurance its black and white, the only difficulty comes if the pay-out is not aligned to the impact experienced by the customer. This is why we are working very closely with the customer."
Different economic incentives
Sabatié explained that insurers and consumers have different incentives.
He said: "Insurers are increasingly looking at the foundation of the claim. You have the insurer and the policy holder who have very different incentives, one wants to prove their claim and the other doesn't want to pay too many claims, so both have different economic interests."
He argued that with everything being decided upfront, it does away with that.
Lastly, he said: "Our goal is to provide an affordable protection for the underserved, but we need to make sure it is sustainable and viable. This is so that the risk protectors on the other side of the chain want to invest and will cater to populations who need it but also to make sure that everyone has an equal incentive."
Both Sabatié and Jones have a long-standing presence in the insurance space, seeing this as a "big advantage."
Sabatié formerly worked at AXA, AIG and ProSight Speciality Insurance. Jones has worked at RSA and Chaucer Syndicates.
Skyline Partners is a London based insurtech startup which provides insurance solutions for weather catastrophe using technology. It was founded last year to restore trust in financial protection and make insurance accessible using technology.
The firm's vision is to provide commercially viable and affordable insurance to the underserved markets around the globe.
Subscribers read more
Integration and digitalisation key to growth at Aston Lark-Peter Blanc