Buffett companies have held 12% of German reinsurer since October 2010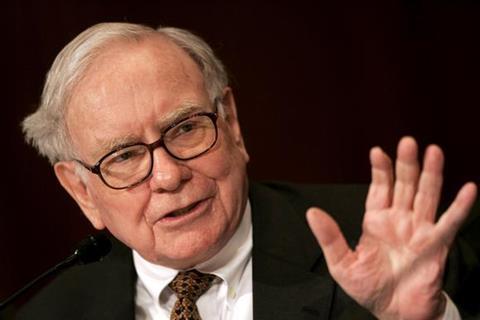 Investor Warren Buffett has reduced his holding in Munich Re below 10%, the German reinsurer announced.
Berkshire Hathaway and National Indemnity Co, both controlled by Buffett (pictured) sold their joint holdings from 12% down to 9.7%, Munich Re said.
The companies have jointly held more than 10% of Munich Re since October 2010. When the shares were first purchased, Buffett said they were being held to generate trading profits.
"We are pleased that Warren Buffett has been a significant shareholder for many years," said Munich Re's chief financial officer Jörg Schneider.
Munich Re said it has distributed dividends of more than €6bn since 2010. In addition, in the period from May 2010 up to the Annual General Meeting in April 2015 Munich Re bought back shares totalling around €3bn. The current share buy-back programme is intended to buy back shares worth up to a further €1bn before the Annual General Meeting in April 2016.
Under German law, an investor raising or lowering its holding of voting shares through the 10% threshold must inform the company.