The Biba Litmus test report paints an unflattering picture of most unrated insurers, say users
Brokers could be put off using certain unrated insurers when they see the output from Biba and Litmus Analysis's new unrated insurer evaluation tool, according to some who have used it.
The users are full of praise for the new tool, which Biba and Litmus officially launched in December 2016. But they also say there are areas where tweaks could be required.
The Biba Litmus Test Report has been designed to help brokers decide whether or not to use unrated insurers by giving them a way of evaluating their financial results. The tool compares 12 key financial metrics from unrated insurers against a three-year average for the top 50 insurers in the UK, in a bid to show how the unrated insurers compare to the UK mainstream (see Pass Notes for full explanation).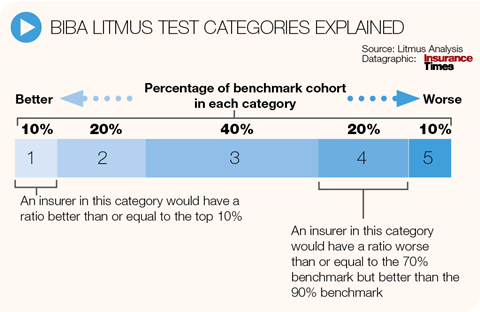 The tool expressly does not attempt to rate the unrated insurers or offer any opinion about their financial standing, but Biba and Litmus hope it will help brokers make more informed choices as part of their overall decision-making process.
No endorsement
There are concerns that having such a tool could endorse the use of unrated insurers. Criticism of unrated insurers – and the brokers that choose to place their clients' business with them – has intensified in recent months following the high-profile collapses of Gibraltar-based Enterprise and Liechtenstein-based Gable.
The Financial Services Compensation Scheme (FSCS) has had to step in and pay clients in both cases, resulting in a poor client experience and also a bigger FSCS bill for insurers and brokers.
But some of those who have seen the results say that, given the poor light in which it shows the companies, it could have the reverse effect.
Manchester Underwriting Management (MUM) chief executive Charles Manchester, who has access to the tool through MUM's ownership of Biba member broker MGB, says that when brokers look at the accompanying notes in the Biba Litmus Test Report as well as the scores, they are likely to be put off by what they find in most cases.
He says: "There are not many of these insurers they are going to want to do business with.
"If brokers read the notes properly, they are going to think twice about using unrated insurers."
Others agree with Manchester, although privately.
High praise
Users have roundly applauded Biba and Litmus's efforts to help brokers evaluate the financial performance of unrated insurers. Some companies' accounts could be difficult to find, and even where available, it took time and effort to identify the right metrics, let alone compare them to a market average.
Director of insurer development at The County Group Norrie Erwin says: "It is extremely helpful, especially for independent brokers who haven't got that facility very readily and also haven't been able to access very readily accounts from unrated insurers."
He added: "Biba should be applauded in terms of sponsoring and coming forward proactively with this information."
Mason Owen Financial Services managing director Andrew Gibbons, who chairs Biba's smaller brokers' advisory board, adds: "We have been heavily involved in contributing towards the development of it so my views are all positive.
"It certainly gives brokers a good benchmark for where the insurers that they are using sit when compared to the major insurers that are perhaps better known in the market."
Gibbons added that a February meeting of the smaller brokers' advisory board had confirmed that the tool has been well received. He says: "The feedback is exceptional at all levels of Biba and anybody who is anybody wants to get their hands on it."
But there are improvements that could be made. Manchester argues one downside is that a user could be tempted to compare the unrated insurers with one another. In the system, ratings of 5 are the worst. If the majority of the unrated firms are scored 5 for a particular metric, those with 4s in that metric might start to look relatively appealing.
He says: "It's a case of in the land of the blind, the one-eyed man is king." But he adds that this is only a minor concern.
A potentially bigger problem is that the data available for unrated insurers and the insurers against which they are benchmarked is relatively old. A lot of the accounts available now for the unrated firms are for the full 2015 year, which will not cover the transition to Solvency II and how the company has fared since then.
For example, Gibraltar's Markerstudy, which was not up to speed with Solvency II at the end of 2015, has subsequently got over the line with a capital injection of more than £45m in 2016. Its latest financial accounts do not show this.
Erwin says: "The only downside to it is that it is a little bit dated."
Next steps
This problem is surmountable. The Biba Litmus Test Report is designed to be used only as part of a broker's overall due diligence. Even if the accounts are relatively old, the tool gives the broker the ammunition to ask informed questions about anything that concerns them and get updates from the insurers.
Erwin says: "Very often when questioned, the company has got answers. Some of them will produce information proactively themselves."
Also, Litmus and Biba will continue working on the tool. The next step is likely to be adding to the around 50 unrated companies that are currently analysed.
Gibbons says: "We are getting quite a lot of engagement from firms who are looking for other insurers to be included in that. We'll see what happens from there."
The Biba Litmus Test Report may not be perfect, but it has given smaller brokers much more information on unrated insurers than they ever had before.
PASS NOTES
What do brokers see?
The Biba Litmus Test Report gives a score of 1 to 5 across 12 ratios. There is no single overall score for a company. There are four capital related ratios, each of which appear twice. One version of the four capital ratios is based on an insurer's reported shareholders' funds, while the other set is based on adjusted shareholders' funds, factoring in adjustments that rating analysts typically make. The final four cover areas such as profitability and reinsurance use. Importantly, there are also explanatory guides which explain what all the ratios and terms mean, as well as providing context.
How is the score derived?
The unrated insurers' ratios are effectively being benchmarked against the three-year average top 50 UK general insurers, as ranked by AM Best. The 50 insurers exclude Lloyd's insurers and companies that write predominantly reinsurance, life or health business. Where groups are involved, the company in ranked is the largest UK legal entity. The three-year average is taken to reduce the effect of changes to the top 50 group.
What do the scores mean?
A score of 1 is the most positive, and says that the ratio in question is among the top 10% in the UK. A score of 2 means the ratio is stronger than the UK mid-range 3, means mid-rage and 4 means weaker than the mid-range. A score of 5 indicates that the ratio in question is among the weakest 10% in the UK.