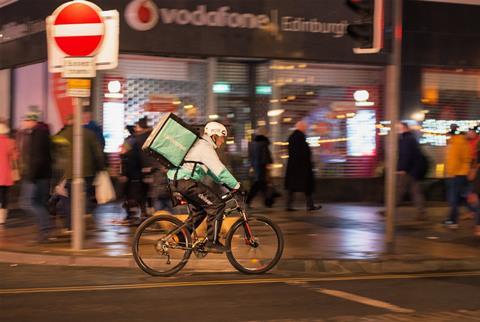 Specialist bike insurer Bikmo has partnered with online reward platform Perkbox to offer the first income protection insurance for Deliveroo delivery drivers.
Sickness and accident over will cost £1.85 a week and is aimed at workers in the on-demand (or gig) economy. They will also be able to access public liability insurance of up to £2m.
Riders will be able to claims back three quarters (75%) of their average weekly income if they are unable to work due to sickness or because they were injured at work.
The cover will be available to all Deliveroo riders.
Bikmo chief executive David George said: "Whether our customers ride to live, or live to ride, our role is simply to give people support and assurance we have got their backs so they can get out there and get the most out of work and play. As the fastest growing cycle insurer, we're stoked to be supporting riders on their mission with the fastest growing on-demand food provider."
Flexibility and security
In a recent survey, three quarters (75%) of UK riders wanted greater security while working, without losing flexibility. Deliveroo managing director Dan Warne has suggested he would like cover to go further, but the company is constrained by employment law, as outlined in the Taylor Review.
The Taylor Review was a government-sanctioned report on the on-demand economy and workers' rights that was published in July 2017.
Warne commented: 'We would like to go further, in offering the security we offer riders, but we are currently constrained by the law. As we outlined to the Government's Taylor Review, we're committed to providing the flexible work that riders want, alongside the security we believe they deserve. Giving riders access to these products is just one way that we are working to do this but we also want to see the law updated so on demand companies can offer both flexibility and security. We are grateful for Perkbox's collaboration in making this happen, and look forward to continuing to work together in the future."
A growing economy
Perkbox chief marketing officer and co-founder Chieu Cao added: "As new economies and labour markets flourish, it is important that those in the on demand economy and their families have access to the protection and security they deserve."
"Security is an incredibly important contributor to productivity and engagement. Our ambition is to take the tangible benefits typically associated with traditional employment models and apply them to flexible working models."
Cao concluded, "We are thrilled Deliveroo has taken this hugely positive step with us, and look forward to partnering with other companies in the space that are prepared to do the same."
What measures does the policy include?
● Up to £2,500 in annual medical expenses cover
● £1,500 annual cover for an overnight hospital stays, and up to £750 for family members to accompany them during their stay
● Up to £2,000 for dental repair
● 20 days of jury service cover up to a total of £700
● Up to £200 phone cover if damaged during an injury causing accident