IFED boss Dave Wood talks about the unit's success in the hunt for insurance fraudsters – but how there's still so much more to do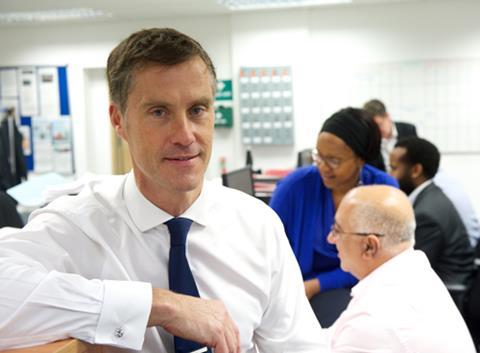 Insurance Fraud Enforcement Department (IFED) head Dave Wood needs a bigger office. The room is crammed wall-to-wall with stacks of paper, folders and knickknacks. Running the insurance industry's anti-fraud police squad has clearly been keeping him busy.
Looking down on his office are a fake meerkat and a Churchill bulldog mascot, given to him as a joke by former colleagues when he left his job as head of the Criminal Investigation Department to join the IFED.
The IFED was born in January, after the government announced 20% cuts to police funding over five years as part of its 2010 spending review. The ABI feared these cuts would leave insurance fraud low down on police agendas, and set up the IFED in response, giving it £9m of funding over three years. The IFED, which is part of the City of London Police, has a team of 34 police detectives and support staff to investigate suspected fraud, make arrests and recover assets for insurers.
Detective chief inspector Wood is here to discuss what the IFED has done so far, the unit's future, the changing face of insurance fraud and smashing fraudsters' doors down.
Wood talks straight, with a dry sense of humour, and keeps up a steady stream of mickey-taking with the police press officer present. He has served 28 years in the police force, mainly doing plain clothes detective work.
His primary roles at the IFED are to run the unit and make decisions on the cases the team takes on, but he still occasionally goes out into the field and gets his hands dirty with raiding fraudsters' homes and interviewing suspects.
Hard fraud facts
The scale of the IFED's task is huge. ABI figures show that insurers are detecting 2,670 fraudulent insurance claims a week, worth £19m. Wood says that contending with this mammoth volume of fraud is the unit's biggest challenge.
"Insurers have upped their game a little bit around detecting fraud," he says. "While we are 34 strong, I think if we doubled the unit we would still have plenty of work on our plate."
We will usually use the assistance of local officers, and if we need to smash the door down they'll do that for us'

Detective chief inspector Dave Wood
The unit cannot handle every case that insurers send it, so it gives each a score depending on factors such as the value of a suspected fraud and whether it matches any of the insurers' main fraud areas.
Wood says making arrests underpins everything the IFED does, for two reasons. First, arrests stop individual insurance fraudsters, but they also give the unit something tangible to shout about to deter any future scams.
The IFED is very press-savvy, and uses the constant media interest in fraud to publicise arrests and raise awareness of the unit and its work.
The tactic is paying off, Wood says "We did a raid in Manchester, arrested a guy and a detective was chatting to one of his flatmates. He had come out of prison, and he said: 'This is the team from London? We'd all been talking about you in prison.' We know we are getting there and getting in the right communities."
Theory in practice
Wood says the unit "set out its stall" by making an arrest on its first day of operation. The name of the fraudster in question is now inscribed on a bell hanging on the wall of the IFED offices and that is rung every time the unit makes an arrest. The bell has certainly been getting some use, with the IFED's arrest tally now more than 200 people, resulting in six convictions.
A typical IFED raid takes place early in the morning. Wood says: "If we get them in the morning, they are likely to be in bed, not gone out, and then we've got the whole day to deal with them. Because we go all over the country, we will usually use the assistance of local officers, and if we need to smash the door down they'll do that for us."
The IFED investigates all kinds of insurance fraud, but ABI members set some boundaries by telling the unit which areas to prioritise. The squad is currently focusing on organised crime gangs, ghost brokers, application fraud, fraudsters inside insurers and opportunistic motor claims, among others.
But Wood stresses that within this framework the IFED is completely independent when it comes to the investigations, and that insurers cannot tell it what to do.
Long-term vision
What will the future of the IFED be? Wood hopes the ABI will grant the squad extra life towards the end of its second year. "Without getting the trumpet out, it's been a success so far and made a significant impact on insurance fraud," he says.
Wood has the option of retiring towards the end of 2014, but says he hasn't decided yet if he will stay or go. Regardless, he wants the IFED to be his legacy when he leaves the force.
In the shorter term, Wood says Lloyd's wants to sign up to the IFED, hopefully in time for the new year. He says: "Lloyd's wasn't part of the original deal. But it has had a look, and I guess liked what it saw, and made an approach to join in next year."
Wood says if Lloyd's does sign up, that would mean more work, but also extra funding and staff for the unit.
With a mountain of insurance fraud to tackle and the possibility of an even bigger remit, it looks like Wood and his team will be keeping busy for some time to come.
The IFED's Three Challenges
● Coping with the volume of work as insurers refer more cases to the IFED
● Insurance firms' reluctance to share fraud information with each other
● Clever fraudsters becoming more inventive about how they scam insurers