Fraud was uncovered after Aviva linked five policies to the same bank account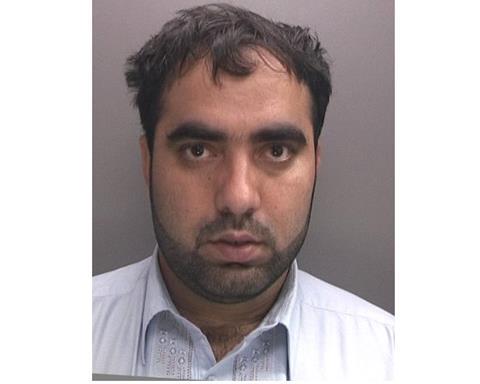 A conman who made up multiple van crashes to con Aviva out of more than £33,000 and then subsequently went on the run, has been jailed for three years and five months.
Earlier today at Birmingham Crown Court, Abdul Qadeer Qadri from Birmingham, was sentenced to 38 months in prison for the fraud and three months for contempt of court, to be served consecutively.
Between 30 June 2011 and 30 July 2012 Qadri took out five motor insurance policies with Aviva, using the details of unwitting friends and family.
Within a month of taking out the policies he reported that the insured vehicles had been involved in smashes and put in claims for vehicle repairs, personal injuries and replacement vehicle hire.
Qadri then cashed in the payouts from Aviva at a cheque cashing-in store.
On one occasion a genuine Aviva policy holder driving his Nissan along a road in Birmingham collided with an Audi in what detectives believe was an induced collision resulting in multiple similar claims and, again, a payout ending up with Qadri
But Qadri's fraud was uncovered after Aviva linked the five policies to the same bank account.
After referring the case to IFB and IFED, detectives identified the bank account as belonging to Qadri and arrested him at his home in Birmingham in June 2013.
On searching his bedroom officers uncovered large amounts of documentation linking him to the fraud including a notebook full of his friends and family members' personal details and the diagrams of the accidents.
Qadri was subsequently charged with seven counts of fraud by false representation. But he failed to appear at court and fled to his native Afghanistan.
On his return to the UK, he was taken to Birmingham Crown Court where he pleaded guilty to the charges and was remanded in February, until his sentencing today.
Aviva head of fraud Tom Gardiner said: "This sentence sends a clear message to would-be fraudsters: we won't tolerate fraud, and if you do commit fraud it is increasingly likely that you will be caught and prosecuted."
IFED deputy head Olli Little added: "Qadri went to great lengths to plan and carry out this series of cons, plotting each crash in his notebook and using and abusing his friends and family members' personal information to gain tens of thousands of pounds.
"But his scam unravelled when his claims were put under the microscope by Aviva, the IFB and IFED and he is now where he belongs, behind bars."
IFED has made a proceeds of crime application to the court against Qadri in a bid to recoup the money he fraudulently gained from Aviva.