The Clear Insurance chief exec's style may be informal but he's far from casual about growing his firm and its means of engaging with customers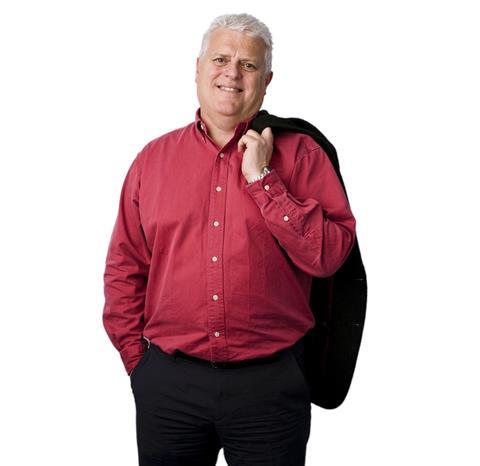 Howard Lickens doesn't like ties.
"I do own some," says the Clear Insurance Management chief executive, defensively. "I have worn a tie three or four times this year, I think."
This attitude to neckwear may be anathema to more traditional brokers, but it says a lot about the man and the way his New Malden-based company does business.
Lickens - who is speaking to Insurance Times as Clear marks its 10th anniversary and the acquisition of two brokers - is informal and unassuming. Slow and measured in style, he cracks a string of self-deprecating jokes.
Leaving Stuart Alexander
Lickens' insistence on informality can be traced back to the events that led up to Clear's foundation. His father's company, Dickeson Taylor, was the first acquisition of Stuart Alexander - now part of Bluefin - in 1995. Lickens worked alongside Stuart Reid and Alex Shead to run Stuart Alexander for six years, but they parted ways almost exactly a decade ago.
"There was something of a difference of opinion with Stuart and Alex," the Cambridge University-educated Lickens says.
Lickens says he left Stuart Alexander after Reid and Shead decided it would be more efficient to run the business with just two bosses. Reid doesn't dispute Lickens' account, describing his erstwhile colleague as "a good lad".
Lickens acknowledges that having three bosses can be awkward and that the working relationship was past its best.
"The last knockings of Stuart Alexander, when I went, were pretty uncomfortable," he says, "We did great things, and worked well, but it was a shame how things finished."
Welcome to the jungle
But, while he admits that the rupture was one of his career low points, Lickens says he has no regrets.
"I wouldn't be here otherwise, so it's nothing to worry about," he says. "Businesses have a lifecycle and that team had reached the end of its sell-by date."
In a contrast to what he viewed as the top-down management style at Stuart Alexander, Lickens likes to hold discussions rather than dictate. Some early Clear board meetings were "zoo-like", he jokes.
Going niche
Back to the present day and Clear writes around £34m of GWP with a turnover of £5.35m in its last accounts to 31 October 2010, up 13.5% from the year before. Profits on ordinary activities after tax were £1.9m for the same period.
The firm specialises in property owners and professions insurance. "I guess we are fundamentally an SME and a semi-specialist area broker," Lickens notes. "We'd like to pick up general, vanilla-flavoured business, but it's more difficult."
He aims to develop Clear's property niche by further supplying insurance for every stage of the construction lifecycle, right through to once the building is finished.
Keep on growing
Lickens has plans to reach £50m of GWP within two years and the firm now has three offices, after its recent acquisitions of McHale Heaney and NMTF Marketline Insurance Services.
McHale Heaney, based in the Square Mile, was a tactical acquisition. "We're trying to grow, so we're looking for new recruits and acquisitions," Lickens says. "If you're in the middle of London, that opens up our catchment to millions, whereas where we are at the moment is a little bit
more restricted."
He doesn't want to stop with these two purchases. "We're always on the look out for acquisitions," Lickens says. "Any business that's a good business, we like to look at."
But he says there is a cut-off point. "We can't just grow by buying, buying, buying. The core of the business has to be able to grow as well, which is probably where some consolidators have come unstuck," he says.
New rules of engagement
Clever use of social media and a push into SME e-trading are two ways in which he hopes Clear will grow in the future.
"We've got to come to terms with re-engineering how we engage with insurers and clients. We all know this, but I'm not aware of any substantial broker who - in the SME space - has really got this working," Lickens says.
Clear has pilot schemes in this area, but Lickens is staying tight-lipped for now. He does say, however, that he wants insurance brokers to change their approach to clients.
"I bank with First Direct, and it's up to me whether I want to deal with them over the telephone, online, or go and see somebody," he says. Lickens wants to see insurance brokers adopt this. "I don't think that model exists at the moment."
Don't force disclosure
As well as running Clear, Lickens heads up the southern arm of the Brokerbility alliance. Lickens frowns at the notion that such groups can survive by relying on the old tactic of piling up premium and using that to bargain with insurers.
"Insurers will quickly work it out, and say: 'Hold on, I'm still dealing with the same piddly little brokers I always was, but I'm throwing more resource at them and they haven't changed,'" he explains.
Lickens says that forcing brokers to disclose their commissions, should Brussels make moves to toughen the legislation, is a potential pitfall. He says this could lead to a wave of acquisitions and consolidation or, worse, "creative accounting".
"I'm sure the bigger brokers will create managing general agents or buy insurance companies, and will just move the commission into a different slot where it is no longer discloseable. But the smaller brokers will have to play it straight," he explains.
Lickens is concerned, therefore, that commission disclosure could lead to the opposite of what is intended.
"We will end up with less transparency, brokers' revenues being moved upstream or moved into weird and wonderful devices, and the brokers with the biggest budgets, the best accountants and lawyers will find ways of addressing it. The smaller guys will find it difficult."