A survey by PwC reveals that insurance chief executives have a lot to be concerned about
Although global insurance chief executives are confident about the next three years, they report existing in one of the most disrupted sectors and are more concerned about multiple issues than other industries.
PwC interviewed 1,293 chief executives in 85 countries for its CEO Survey.
The report found that 90% of insurance chief executives were either somewhat confident (49%) or very confident (43%) about the three years ahead. Nearly half of chief executives said they (49%) were planning a joint venture or strategic alliance over the next 12 months to drive profitability and growth.
This confidence is despite believing that they exist in one of the most disrupted sectors (see chart below).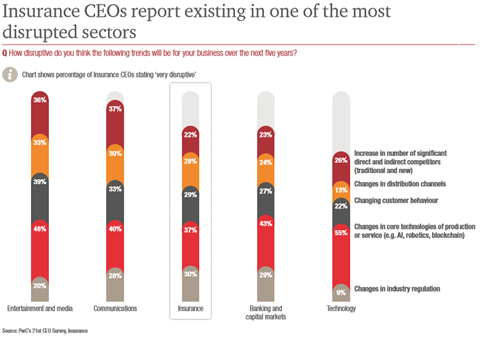 Source: PwC's CEO Survery - ceosurvey.pwc
Only entertainment and media and communications chief executives reported more disruption in their sectors than insurance.
Insurance tied with banking, while technology chief executives reported that their sector was less disrupted.
Chief executives' biggest concerns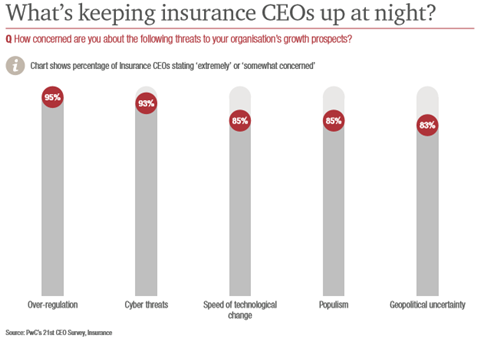 Source: PwC's CEO Survery - ceosurvey.pwc
The regulatory burden proved to be the biggest worry for insurance chief executives.
A total of 95% reported that they were concerned by over-regulation, with no other sector coming close according to the report.
With IFRS 17 imminent, the regulation pain point is unlikely to ease.
Cyber risk was the next biggest concern for insurance bosses, with 93% reporting they were concerned by cyber threats.
In joint third place, 85% reported concern about the speed of technological change and populism. Insurance chief executives were more concerned by the speed of technological change that those in any other industry.
Geopolitical uncertainty was also a cause for concern for 83% of those insurance executives surveyed.
Jim Bichard, UK insurance leader at PwC, said:
"Insurance continues to be one of the most disrupted sectors in the global economy but there are plenty of reasons to be optimistic. Technological change is impacting all industries and, as companies across the world change the way they do business, they will be looking to the insurance industry for help in guarding against new risks and fuelling their own growth. This is a huge opportunity for insurers to provide innovative new products and help protect society from the new risks associated with flexible workforces, connected homes and cyber threats. The UK insurance market has always shown itself to be resilient and agile in the past."