In the second part of this year's search by Insurance Times and Aviva for IT Pack member of the year, account handlers from Swinton and Bluefin shine out on a big day for Big Data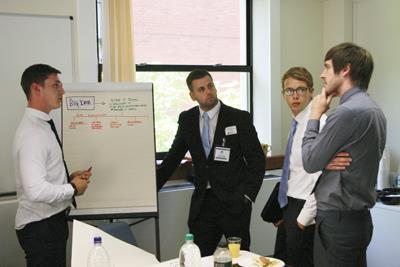 Brokers have a lot to learn from insurers about Big Data, according a group of young brokers at the second IT Pack event.
Held this month in Manchester, the event brought together the region's up-and-coming brokers to debate the pros and cons of Big Data.
Brokers are lagging behind insurers and failing to use Big Data to its full potential, they said. "The question is no longer how you store it but how you use it," said Swinton Commercial account executive Jack Seton. "You've got to strip it down, structure it, get rid of all of the unnecessary noise and make it into data that is useful."
Brokers can use data to help evaluate client risks, customise pricing, fight fraud and target new business, he said.
"Insurers are spending a lot of money on Big Data, as they are the ones that pay out for a claim," Seton said.
"Brokers also have a responsibility, however, to challenge insurers on pricing decisions."
Griffiths & Armour insurance broker Stuart Beards agreed. "It's about knowing your customers and why they come to you," he said. "Do they want price? Do they want a relationship with a broker? Or a brand? You need to profile your clients so you can target business appropriately."
Impact on underwriters
Aviva head of underwriting and trading North West Tracey Threlfall said Big Data was changing underwriting practices, enabling insurers to better predict risk.
"Historically, we would take a view of a risk based on experience," she said. "That's still relevant, but we're also using masses of data to give us a sophisticated starting point for our pricing."
Commenting on using data to fight claims fraud, Rigby Insurance senior account executive Kieron Cox said brokers should have greater access to databases such as CUECheck, which provides access to motor, home and personal injury databases, and DVLA records.
"This data must be rolled out to point-of-sale people, so we can improve the custom model of insurance and clamp down on fraudulent claims," he said.
Role of telematics
Bluefin account handler Nicholas Pagett said telematics and smartphone apps would also be used in the fight against fraud.
"Telematics' future is in providing real-time data on vehicles to identify fraudulent claims - you know how fast the car was going at the time of an alleged accident, what angle it hit the vehicle, where the car was.
"You then combine that information with the driver's claims and driving behaviour, enabling you to prove whether a claim is fraudulent or not straight away."
Insurance Times and Aviva's IT Pack events are part of a nationwide search to find the rising stars of the broking industry.
Seton's leadership skills and industry knowledge stood out at the Manchester event. He will go on to compete in the October finale for the title of IT Pack member of the year.
Aviva UK head of performance management and marketing Clark Ross said: "The judges felt there were two standout stars - Jack Seton and Nick Pagett.
"Only being able to send one through to the next stage was tough, but Jack caught our eye in the group challenge. He set the pace getting to grips with the topic and working with his team. He also stood out in the Q&A and showed a real honesty."
Q&A: Andrew Rigby, Rigby Insurance
One IT Pack delegate, the director of Merseyside broker Rigby, talks transactions, takeovers and regulatory tactics with Jessica Reid
Q: How can brokers grow in these tough economic times?
A: Organic growth is difficult. We're still in a soft market and there's so much capacity out there. Insurers haven't done themselves any favours - they've sold personal lines on price and that's now filtering through to the commercial market.
It's up to us, as brokers, to sell the benefits of a broker and the benefits of being with an AA-rated insurer.
Q: What have you learned from past business mistakes?
A: I naïvely went on the acquisition trail and made three acquisitions in three months. We went from six employees to 21. And that takes some managing, especially when they all worked on different principles, none of them liked change, and one of the firms was completely paper-based. We're still on the look-out to buy, but it would have to be the right broker.
Q: Where do you see broking's future?
A: I predict there'll be further consolidation of our market. Towergate has already acquired 11 brokers this year. There is still a role for the independent broker, as long as they can evolve and embrace Big Data and relationships, but one-man bands will soon be a thing of the past.
Q: What's your biggest business challenge at present?
A: Customers are increasingly buying on price in commercial lines, so our biggest challenge is some of the broker tactics that are being played in our field.
Q: Are you worried about the Financial Conduct Authority (FCA) probe into conflicts of interest?
A: One of the things the FCA is looking at is whether it's in the best interests of clients if a broker has a large portion of its business with one carrier. I'm happy to say that our largest account is with Aviva: it's with a market I trust and I recommend; my staff know the products inside out; and I have a great relationship with the underwriters. That's not a conflict of interest; it's a business decision. If brokers are open and transparent, they shouldn't be concerned.