The insurer's group deputy chief executive additionally outlines two 'headwinds' impacting Axa's group-wide P&C COR of 93.7%
Insurer Axa has reported a 3% growth in revenue for its property and casualty (P&C) business in the UK and Ireland over the first six months of 2022, according to its half-year financial results, published today (3 August 2022).
The company confirmed that its P&C revenue in the UK and Ireland now stands at €1,866m (£1,506m) – this consists of €956m (£799m) revenue coming from its personal lines products, which is a 1% drop compared to H1 2021, and €910m (£761m) of revenue being achieved from its commercial lines book.
Axa's UK and Ireland commercial lines revenue for the first half of the year marks a 7% improvement compared to the same reporting period in 2021, driven by 11% growth in Axa's commercial non-motor line.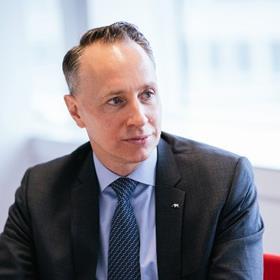 This recorded uptick in commercial lines revenue has contributed to the overall group's improved P&C revenues and underlying earnings, highlighting what group chief executive Thomas Buberl described as Axa's financial "solidity" and "strength".
For example, total P&C revenue across Axa increased by 1% in the first half of 2022 to reach €29.3bn (£24.5bn) – Frédéric de Courtois, Axa's group deputy chief executive, explained that this result has been driven by a reduction in natural catastrophe exposures and reinsurance – while overall commercial lines growth amounted to 4% in 2022's first half, to reach €17.5bn (£14.6bn) in revenue.
The P&C combined operating ratio (COR) for H1 2022 was 93.7%.
Courtois attributed commercial lines growth to higher prices.
Buberl continued: "In [an economic environment] which has become highly uncertain, we remain very watchful and vigilant and take all necessary measures. The group is in a position of strength because it is resilient and well positioned in the current environment.
"Our business profile is resilient to economic cycles, as this first half has showed. We are also in a position of strength to resist the volatility in the market thanks to our financial robustness and thanks to our transformation of business profiles over the last few years.
"We are also capable of proactively managing inflationary pressures by increasing our prices in a targeted manner, while also building upon our reserves and the complimentary fit across our business lines.
"Remember that the increase in interest rates is very good news for clients as well as for our own investments."
Personal lines
Within Axa's UK and Ireland personal lines book, however, revenue decreased overall by 1% to €9.5bn (£7,9bn), with a 10% dip in personal non-motor revenue compared to H1 2021 and a 2% growth in personal motor.
This reduction did not impact group-wide personal lines improvements though – personal motor revenue across the business' geographies grew by 2% for H1 2022 compared to the first half of 2021 (2022: €5,939m), while Axa's personal non-motor book saw revenue reach €3,590m (£2,928m), which is a 4% increase on 2021's H1 result.
Courtois explained that these improvements were the result of better volume and business mix within this book.
Alban de Mailly Nesle, group chief financial officer at Axa, added: "When you look at commercial lines in general, we are up by 4%, so strong growth – notably in France and Europe where we are plus 6%. In personal lines, we are also up by 3%, so I think it's a good dynamic.
"That being said, we focus on profitability – it is a moment where the market is obviously a bit more challenging because of inflation, so we want to focus on profitability and not specifically on growth for the sake of growth."
Headwinds hitting financials
For Courtois, there are two non-repeating "headwinds" currently impacting Axa's group-wide P&C COR of 93.7%.
The first is increased frequency within Axa's motor insurance book following the Covid-19 pandemic – although noting that motor frequency has not yet returned to pre-pandemic levels, Courtois explained that rising frequency in this line of business has still contributed 1.3% to the insurer's COR in the first half of 2022.
The "non-repeat of the excellent profitability level in motor insurance last year" has caused a "negative impact of €300m (£250m)", he added.
The second headwind is linked to claims arising from the ongoing war in Ukraine with Russia. Courtois said this "impact" amounted to around "minus €300m" in value so far this year and contributed 1% to Axa's total COR for H1.
He said: "With respect to underlying earnings, [this is up in P&C by] 4% to €2.4bn (£2bn). All in all, [an] excellent technical performance, adjusting for these two one-off items."
Buberl added: "The first half of 2022 has certainly been marked by strong geopolitical tensions. For several months, we have witnessed – unfortunately – the violence of the war in Ukraine and the global energy crisis.
"These tensions have had an impact on the macroeconomic context, which is now quite uncertain. Given this environment, Axa has performed very well during this half year. It testifies to [the business'] financial strength and the relevance of its strategy.
"Revenues are up by 1% to €55bn (£46bn). Behind that figure, growth was of high quality, with an excellent mix focused on our operations that generate technical results and commissions and fees – I am thinking in particular of health and commercial insurance and asset management."