The firm's chief executive adds that DLG has ambitions to be 'a tech and data driven insurance company'
Direct Line Group (DLG) has recorded a 11.4% drop in its profit before tax in the 12 months to 31 December 2020 – this has fallen from £509.7m in 2019 to £451.4m at the end of last year.
Furthermore, operating profit has decreased from £546.9m in 2019 to £522.1m in 2020, indicating a 4.5% dip. Gross written premium (GWP) also fell slightly by 0.7% to £3,180.4m, compared to £3,203.1m in 2019.
These figures were revealed as part of the insurer's 2020 full year financial results, published today.
DLG attributed the hit to its operating profit to increased major weather costs – these amounted to £43m in 2020 compared to just £6m in 2019.
And although the Covid-19-related national lockdowns caused reduced claims frequencies within DLG's motor and commercial books, the insurer said "this was partially offset by investment in initiatives to protect our customers, people and society, lower investment asset returns and the impact of the Covid-19 pandemic on travel".
DLG confirmed that "the impact of the Covid-19 pandemic was a modest net benefit to the result".
As for the dip in profit before tax, DLG said this was because of "restructuring and one-off costs as the group invested in cost saving initiatives".
DLG's combined operating ratio improved slightly over 2020, moving from 92.2% to 91%, again linked to reduced motor claims over 2020.
DLG's direct business seems more buoyant, however – GWP here only experienced a 0.1% drop, while in-force policies increased by 2.2% between 2019 and 2020, compared to a 1.2% decrease for overall in-force policies.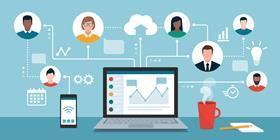 "Direct own brands in-force policies grew by 2.2% driven by strong segments of growth across the business, including home, commercial and Green Flag Rescue, whilst motor was broadly stable. Total in-force policies reduced due to lower partnerships and travel volumes," the insurer said.
Building on momentum
Speaking on the results, Penny James, chief executive of DLG, said: "Despite the many challenges we faced in the year as a result of the Covid-19 pandemic, we traded well and prioritised support for our customers, our people and local communities.
"Own brands policies grew by 2.2%, and our model of disciplined underwriting delivered a combined operating ratio of 91.0%. This has enabled us to return capital to shareholders during the year and today declare a final dividend of 14.7 pence per share, up by 2.1% over 20191, and announce a share buyback.
"I am proud that our people, even when working remotely, have continued both to care for our customers and to help us build an insurance company of the future. Thanks to their commitment we have made great progress on our transformation programme, designed to drive a step change in our competitiveness and deliver profitable growth. As a small thank you we are awarding all employees shares worth £350.
"We are a business that is proud to deliver strong returns to shareholders and to challenge itself to be a force for good. We chose to invest £93m in a range of measures to support our customers, our people and local communities. We also want to do everything we can to tackle climate change and last year committed to set science-based targets to reduce our carbon emissions.
"Turning to the year ahead, we feel confident that we can build on the momentum we've created and become a tech and data driven insurance company of the future with our customers at its heart."