Homelyfe recently partnered with Yolt to offer 60-second insurance
Homelyfe has launched a new artificial intelligence (AI) platform that claims to "bridge the gap" between legacy systems and insurance in the digital age.
The platform, called Aventus, uses diminished question sets to generate quotes in seconds and the insurtech is looking to expand its client base while also planning to go global next year.
Aventus enables businesses to compliantly pre-populate question sets using first and third-party data to create a seamless buying experience for any insurance line.
It's chief executive and co-founder, Peter Goodman sat down with Clare Ruel to discuss how the new platform supports businesses looking to launch new products by providing a digital solution.
He said that his vison for Aventus is "to deliver business" in place of firms testing and developing new products out themselves.
The insurtech has spoken to a number of potential partners who already make use of first and third-party data to augment answers assisting in the the accuracy of underwriting.
No-one wants to be a laggard
He explained that larger companies find it hard to implement new changes due to their size and the chief executive has plans "to do what Salesforce did for CRM but with buying insurance."
But he warned: "The older the industry, the more legacy systems exist.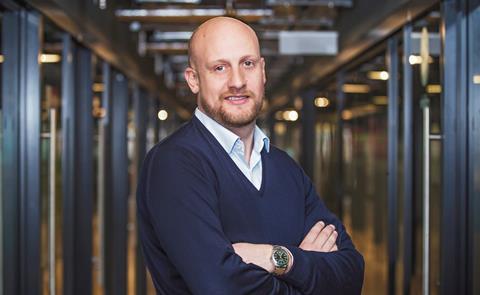 "And it's very hard because no-one wants to be a laggard-but it's just time however it's also a mentality thing for us.
"We are a startup, we think like a startup and we can enable large companies to think like startups and innovate on our platform rather than having to figure it all out and develop it."
But Goodman, said that the real problem for him was in the evolution of how acquiring data hasn't changed.
He said what's really happened is that the questions that were previously asked face-to-face or on the telephone have moved online for the policy holder to fill out instead.
He said for home insurance the question sets haven't really changed up until this year, citing Aviva's move in January this year to reduce duplication of questions in the application process by using information that is freely available and removing any uncertainty.
Death by Committee
Secondly, he mentions the size of the company, "I think there's a bit of a 'death by committee' for large organisations" as 'size' acts as an obstacle to innovation.
Goodman said many know what they want to do but the actual "doing" of it is the hardest especially with so many people and different opinions.
However, he said: "There's a clear appetite in the industry not just to shorten the home insurance question set but to shorten all question sets overall, so for me it became about finding ways to create less friction to acquire insurance" and for companies to provide a service to do so.
Although he continued that if you are selling insurance you should be able to demonstrate it and "given the track record of innovation in insurance" the fact that Homelyfe can innovate he feels is a powerful thing.
Innovation-is an issue that Luke Hamm, chief executive of Gov Grant also made light of recently highlighting that insurance isn't innovative on the face of it but holds many opportunities to do so with 80% of businesses in the UK not claiming a tax refund that they are rightly owed.
But Goodman believes there is seismic change taking place, he said: "If you look at the people that are emerging out as start-ups particularly in this industry you see people that want to innovate but are struggling to actually deploy.
Technology should be about proposition
Goodman founded Homelyfe in 2015 when himself and Andrew Craven, co-founder for Homelyfe sold a company called Brighter Option to a US company, Buddy Media in 2011, the two firms rolled their products together and later, in 2012 Buddy Media was acquired by Salesforce for £700m.
It's Goodman's sixth company and he claims it is his "biggest success thus far." He worked for Salesforce for a couple of years leaving in 2014, where he became interested in looking at old industries and one of the things that the firm was doing at the time was creating a platform that people could actually build, develop and digitise on.
He said: "Using technology now should really be about proposition being present at the point of sale (POS) rather than necessarily getting rid of all question sets."
Goodman said that the most important thing for him was the passing of data from one product to another.
He added that firms should do simple things to digitalise and he wants Homelyfe to be that connection to this goal.
The firm provides the software and capabilities for businesses removing the "risk" of testing new products.
He said: "That's where both the risk and the time delay sit-when you let other people develop stuff at their own will."
He also said that there is only a finite number of customers and the more engaged they are, the more products they purchase and the "stickier they become."
Less friction, more conversion
"So, the key was to make the customer journey as frictionless as possible, businesses don't enable themselves to make money they should."
He said that the "less friction you have the more conversion there will be but ultimately if the product is priced correctly, and it's good there is overall less friction then you are really going to win."
With diminished question sets, the friction reduces. He believes this is important but stresses that Homelyfe aren't getting rid of all the questions, instead the important ones are being answered whilst the more mundane questions like name, date of birth and address can be pre-filled.
The insurtech believes this would enable the underwriter to be accurate and assess risk but the brunt of that is not on the customer, so the friction becomes less.
"I think we can help private companies leverage that data and make the customer journey a little less friction oriented and start to digitise," he said.
But he mentioned: "Time and cost efficiencies, I think are quite big, but unless you have the ability to deliver that at the point of sale or point of engagement you do run the risk of losing the customer."
He gave the example of the amount of post in hard copy that he still receives from insurance companies, saying that it was "phenomenal."
He said that this is something Aventus and Homelyfe as a company can facilitate with diminished questions, the passing of data and automated market.
Homelyfe works closely with insurers, Goodman said: "We benefit when insurers benefit and that puts us in a completely different category of risk."
This is because firms that test products on their own run the risk that it might not work, but Aventus and Homelyfe support businesses on this journey very much taking the risk with them.
"With us, they can do it in a month and we take the risk with them, we clear a percentage of gross written premium (GWP) but that hasn't cost them anything to build but it would be minimal compared to what it would cost for someone to scope the product.
Insurtech, Tapoly shortens question sets to streamline using artificial intelligence allowing users to purchase "on demand insurance."
Homelyfe was nominated for two awards at Insurance Times' Tech and Innovation Awards last night, best customer app and best use of technology for customer experience in B2B.
Last month Holmelyfe partnered with smart money app, Yolt to offer insurance in 60 seconds.
Subscribers read more