The theft of the fully functional 18-carat gold toilet could spark a hefty claim
Insurers have been alerted over the theft of Blenheim Palace's solid gold toilet - reportedly worth £4.8m - in the early hours of Saturday 14 September.
The 18-carat piece of artwork by artist Maurizio Cattelan called 'America' was fully functional and could therefore spark an escape of water claim.
It was previously in the Guggenheim museum, early reports suggested it was worth £1m, but chief executive at the palace – Dominic Hare said it has been valued at $6m (£4.8m).
It is unknown whether the insurance will cover the lost piece of artwork, both the insurer of the artwork and the claim is yet to be revealed.
According to Reuters, it was part of an exhibition by Cattelan and only opened at the palace two days ago.
Police are still actively searching for the stolen piece of artwork with a continued police presence around the palace, they are urging witnesses to come forward.
Investigating officer detective inspector Jess Milne said: "We believe a group of people used at least two vehicles during the burglary, which was reported to Thames Valley Police at 4.57am on Saturday.
"Due to the toilet being plumbed in to the building, this has caused significant damage and flooding," Milne added.
Taking a risk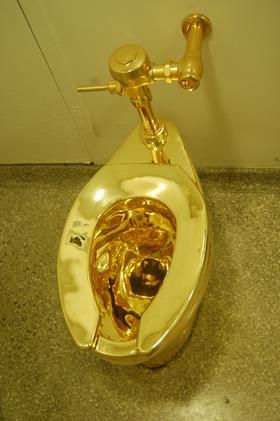 Blenheim Palace said it was "saddened" by the loss but relieved that no-one was hurt.
Hare added: ''When you show the finest art to everyone, to the audience it was made for, you take a risk. Almost always that risk is worth taking. We say that even today.
"We hope against hope that we can recover this precious work of art. It is deeply ironic that a work of art portraying the American Dream and the idea of an elite object made available to all should be almost instantly snatched away and hidden from view.
"We hope that the wonderful work of our dear friend Maurizio Cattelan becomes immortalised by this stupid and pointless act. We are truly grateful for the support and work of all at Thames Valley Police.''