Amid the glitz and glamour of a Kensington-based ceremony, some firms took home multiple awards - was it you?
Following two years of virtual events due to Covid-19 lockdown measures, this week saw the in-person return of Insurance Times' Claims Excellence Awards for the first time since 2019, with an exciting celebration at Kensington's Royal Garden Hotel on 26 May 2022.
Over the course of the evening, 20 awards were up for grabs, recognising excellence across claims products and services, fraud detection, credit hire and staff training.
The ceremony kicked off with a message from Insurance Times editor Katie Scott. She said: "Very often, claims are the vital touchpoint between insurance professionals and their customers – when policyholders see what they have actually paid for and the support the insurance industry can provide during a time of vulnerability and stress."
Comedian, actress and writer Lucy Porter also made a return to the Claims Excellence Awards as the event's host - she is best known for her appearances on TV shows Mock the Week and Have I Got News for You.
One of the most prestigious awards of the evening, Claims Champion of the Year, went to Billy Hinken, head of claims operations at MGA Pen Underwriting. Described as "a leader you can get behind," he was credited with driving the 90% employee engagement score for Pen Underwriting's claims function.
Following Hinken's win, Pen Underwriting tweeted: "We knew he'd bring it home! Congratulations Billy Hinken, extremely well deserved."
Hinken, told Insurance Times: "I feel very proud to have received this prestigious award and am extremely grateful to everyone in my claims team and the wider Pen family, for their close collaboration, can-do attitude and unwavering support of each other, which is what makes the real difference.
"It was also brilliant to see so many of my colleagues from across the claims profession come together to recognise the diverse efforts, innovation and sheer hard work taking place every day to further improve the speed and quality of service delivered to our customers."
Insurance Times would also like to thank the insurance professionals who helped with the judging process as well as the sponsors. .
Huge congratulations to Billy - everyone at @Pen_UW_UK knows he's a total #ClaimsChampion and now the wider industry does too. Thank you @InsuranceTimes_ & judges for recognising all that he's achieved and continues to deliver! 👏🏼🥇👏🏼 https://t.co/6jc4cpffsb

— Pen Underwriting (@Pen_UW_UK) May 26, 2022
Hat-trick
As the award proceedings got underway, there were some very lucky double prize winners, while one insurer scored an award hat-trick.
Covéa Insurance won the Commercial Lines Claims Excellence Award, dazzling the judges with a presentation about its investment for customers. Aviva was highly commended in this category.
Covéa's second win was in the Fraud Solution of the Year category, thanks to its "in-house approach to ghost broking". A highly commended prize went to technology firm Charles Taylor here.
The insurer's third accolade of the evening was the Personal Lines Claims Excellence Award - Covéa wowed the judges with its consistency and results-orientated claims service.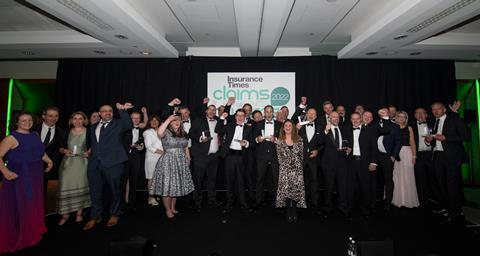 Adrian Furness, Covéa's chief executive, said: "Collecting three more awards at this year's ceremony is a huge achievement. I'm so proud of all the hard work and focus that goes on across Covéa to put our customers at the heart of what we do.
"It's our people and our customer focused culture that enables us to continually offer excellence in claims for our customers and partners. Thanks to all at the Insurance Times and to the judges for recognising us in this way and congratulations to all the finalists and other winners last night"
Meanwhile, law firm Horwich Farrelly bagged two awards on the night. The first one was the Claims Training Excellence Award, recognising the company's "Netflix of insurance training" approach.
The firm also won the Claims Product Solution of the Year – Legal Services and Support prize. The judges described the winning entry as a simple solution that was scalable and had good growth.
Ronan McCann, Horwich Farrelly's chief executive and managing partner said: "We are over the moon to have won two awards last night. We always like to be disruptive and challenge the way things have always been done to get better results for our clients. HOLT is a great example of that, our sector-defining counter-fraud solution that enables insurers to automatically assess whether claims should be challenged.
"It combines a lawyer's 'brain' with an insurer's to improve decision making as early as possible. And we did it all using collaborative and Agile methodologies. We know our clients love HOLT and it's fantastic to receive this accolade from such a prestigious industry award, particularly as there was stiff competition.
"Our 'Netflix' style training platform, HFTV was developed in response to the unprecedented situation we all found ourselves in over the last two years, where training became a lower priority for our clients. It is the result of a lot of hard work and creative thinking from a dedicated team and we are thrilled that their efforts have been recognised in this way."
Insurer Ageas also earned two awards, including the Claims Team of the Year – Digital Transformation accolade for its investment in people, data and platforms.
Ageas also scooped the Claims Service Solution of the Year – General award. The judges described its proposition as "innovative and sustainable, with the customer at its heart". Zurich was highly commended in this category.
Robin Challand, Ageas Insurance's claims director, said: "It's fantastic to see the hard work, commitment and collaboration of all our Ageas UK teams and supporting partners celebrated through these award wins."
He explained that the award for Claims Team of the Year for Digital Transformation is "further proof that our bold data modernisation and professional development programmes are helping us to become smarter and faster, developing standout capabilities by investing in the best".
Challand said that Ageas is delighted that our industry-leading green parts programme has been recognised yet again as it continues to drive more sustainable operations.
Zurich also received the award for Claims Team of the Year – Motor, for its creation of a bespoke technical academy programme.
David Nichols, chief claims officer at Zurich said: "Our claims team really is at the coalface of our business. To receive an accolade such as this really makes us proud. For any insurer, it's a crucial part of everything we're about. We always want to put our customers at the centre of everything we do."
Innovation
In addition, CFC Underwriting's cyber threat analysis team took home the award for Customer Care Solution of the Year, for its use of technology and support of SMEs, while Davies Group picked up the Claims Service Solution of the Year – Technology Supplier award.
QBE, meanwhile, won the Claims Product Solution of the Year – FNOL award, with the judges describing the winning product as "simple, sustainable, progressive and impactful".
Cazoo Data Services succeeded to take first place in the Claims Product Solution of the Year – General category, thanks to its "far reaching" product for customers and insurers.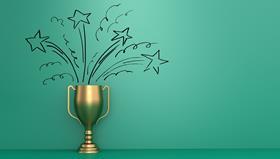 Gold in the Claims Team of the Year – General category went to ETA for its proactive approach. Plastic Surgeon Fine Finisher was awarded a highly commended recognition.
The Claims Startup Award went to Claimspace - the judges thought the firm showcased a clever solution that solved a real problem.
Nuvalaw and Trust Arbitration won the Claims Achievement Award, sponsored by Copart. The judges were impressed by how the winner addressed court backlogs with its digital alternative dispute resolution service.
Synergy Cloud bagged the Claims Product Solution of the Year – Claims Management Platforms and Software prize after wowing judges with its "fast, scalable product that puts everything together in one place".
Arbitrate, meanwhile, took home the award for Credit Hire Solution of the Year. Cogent Hire was high commended in this category.
The award for Legal Claims Management Team of the Year went to law firm DWF for its proactive management style that saved insurer clients £18m in claims costs last year.
Lastly, the Third Party Claims Management Team of the Year award was won by The Plan Group, recognising its team's ability to anticipate parts shortages and build its own stock to settle claims.
Insurance Times would like to extend huge congratulations to all the winning firms.