By embracing technology, data and artificial intelligence, brokers can mitigate customer retention risks
New business and customer retention are both a "priority and a risk" for brokers that will only get "more difficult" as the industry continues to emerge from the pandemic-related challenges of the past 12 months - however, by investing in data and technology, these risks can be seen as a "very big opportunity", said Raoul Suthers, head of sales and distribution at Aviva.
Suthers was speaking as part of a webinar hosted by Insurance Times last week, titled 'How Covid-19 has accelerated digital adoption in the insurance industry'. Airing on Wednesday 16 June, the session was chaired by Insurance Times head of research Savan Shah, in association with Aviva.
In research conducted by Insurance Times this year, brokers were asked what challenges posed the greatest risk to their buisnesses going forward.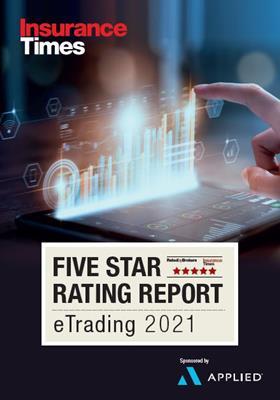 Economic uncertainty led the results, with 69% saying this was their biggest concern. This was closely followed by issues such as customer retention, regulation and remaining competitive.
Suthers said these challenges will drive brokers to take advantage of technology - but it may also push some businesses to decide that the necessary digital investment isn't worth it and they would prefer to exit the industry entirely.
"The ones that don't [invest in technology], I suspect, will very slowly wither on the vine as others do much better than them," he added.
Meanwhile, Aviva's head of trading David Hockey told online attendees there is "absolutely no doubt" that there will be more trials and tribulations ahead for the insurance sector as government support linked to the pandemic, such as furlough, ends.
However, there will also be "some opportunities for a whole wave of new business ventures to develop into the marketplace".
"That will create some great challenges for us as an industry around new business models, presenting new trades that are out there and how we respond practically to embrace them with the right insurance covers," he explained.
Investing in data
To support brokers with the challenges and opportunities in today's current climate, Aviva is heavily investing in data capabilities.
Maria Crockart, digital and automation director at Aviva, explained that data, analytics and the associated artificial intelligence (AI) are "key", as these will determine where insurers and brokers can "win or lose" as the industry moves forward.
She said: "I always worry when we talk about digital as being the efficiency lens. It does create an element of efficiency but it's how you reinvent and reinvest that efficiency to get better outcomes for our customers.
"If people are needing to provide more time and support in certain areas, digital enables you to give them that time because you create a level of efficiency and capability."
Aviva has provided its underwriting teams with digital insights and decision-making tools, with the aim of empowering them to spend more time on value-added conversations.
Suthers added: "The amount of information and data that can now be pulled from behind the scenes and from a myriad of places is helping [underwriters] to help brokers identify where there's inadequate cover or gaps in cover.
"It's not to take away the broker's job, it's just to say – we've got some information that's giving us indicators that means you can do a better job for your client because ultimately, that is what we need to do.
"The brokers that embrace that stuff and take all that information on, it will help to mitigate any risks they see in terms of customer retention and new business."
However, the creation of digital tools and data insights is not a 'one and done' task, Crockart noted.
She said: "As more demand comes through these channels, we need to be constantly iterating – how can we help?
"As you move up the complexity ladder it's more likely that [the] customer shape and that bit of data is just not going to fit the rule space that we had and so it needs to be responded to quickly in a way that supports the broker demand."
Suthers agreed: "At the moment, too many of us let the broker fall out of the system when actually we've got a great solution for their customer, but if they don't know it or we are not making it very clear to them or helping them access that solution, they will fall out and go to the next easiest solution along."
Fast Trade is Aviva's online platform for trading commercial, personal and speciality lines business.
Feedback loop
To support this data-driven process, Suthers encouraged brokers to offer feedback to insurer c-suites by being honest about the journey they are on, the problems they experience and the innovation they are conducting.
He explained: "That is absolutely critical. Without it, we are running blind and what you do without that feedback is you often then turn to lowest common denominator, which is how can we do things more efficiently rather than how can we do things that benefit the customer [and] the broker?
"If we have that feedback, then the innovation stories will tell themselves – the investment stories will tell themselves."