Actuarial Profession report shows awards are stabilising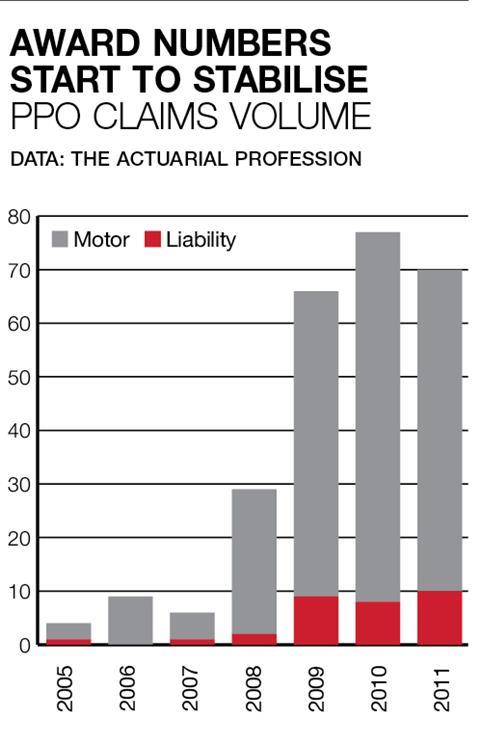 The number of periodic payment orders (PPOs) is stabilising, according to an influential report.
The Actuarial Profession report found there were 70 PPOs last year - 60 motor and 10 liability - down from 77 in 2010. Average annual payments for PPOs was flat at £78,700.
The average age of PPO claimants increased only slightly from 34.4 years in 2011 to 35.2 years in 2012, based on awards made so far this year.
Despite PPOs stabilising, the report added: "PPOs have the potential to become a significant part of some insurers' liabilities in years to come - as the number of PPOs in payment on the balance sheets of insurers increases over time."
'Staggering' increase
The 2012 Report on Third Party Motor Claims and Periodic Payment Orders also reported a "staggering" 18% increase in the proportion of third-party accidents involving bodily injury from 2010 to 2011.
The report also revealed that there was a 9% increase in the average cost of small third-party bodily injury claims.
All of this was against a backdrop of an 11% decrease in third-party damage claim frequencies.
Allianz Retail technical director Tom Moss said: "There are a number of upward pressures on rates; the market is still not profitable. It's still a 106% combined ratio, and lurking in the background is the possible movement of the Ogden rate, so there's still a lot of upward pressure … it's another one that might help momentum towards that.
"Equally, though, there are a number of downward pressures, with the Jackson reforms next year and the OFT investigation, so it's kind of swings and roundabouts.
"My own view is that we are bumping along at the moment, and those upward pressures and downward pressures might just cancel each other out. We'll probably see relatively flat premiums but more upside than downside; maybe some modest increases."
The companies covered in the report represent 90% of the UK's private motor comprehensive insurance market, as measured by the ABI.