But European parents suffer over sovereign debt crisis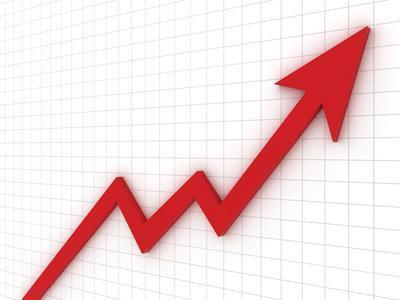 The UK divisions of large European insurance groups have all reported strong performances at the nine-month stage this year.
Improvements are driven by personal lines, with little sign of competitive pressures easing on the commercial side. But the spectre of the eurozone debt crisis hangs over their parent companies.
Of the three European-owned UK insurers that reported last week, Ageas UK saw the biggest improvement. The company's total profit before tax, including broking and life operations, surged almost five-fold to £78.3m in the first nine months of 2011, compared with £16.6m in the same period of 2010.
Most of the improvement was down to the non-life and retail broking. Non-life pre-tax profit jumped to £52.9m from just £7m, as the combined ratio dipped to 99.9% from 104.9%. Ageas's motor combined ratio saw a particularly strong boost, falling to 96.4% from 106.9%.
Ageas said the motor improvement was a result of its determination to ensure prices matched its risk.
Pre-tax profit in Ageas's broking division more than doubled to £26.9m from £12.9m.
Zurich's UK general insurance profitability improvement was more muted, but equally grounded in personal lines underwriting decisions.
Zurich's UK non-life book made an operating profit of $210m (£131m) in the first nine months of 2011, up 15% on the $182m it made in the same period last year. The combined ratio improved by 1.6 percentage points, to 96.4% from 98%.
The improvement comes after a concerted effort by Zurich in personal lines motor underwriting.
Zurich's non-life results at the European level seem to suggest that improvements are being driven by personal rather than commercial lines. Europe commercial non-life operating profit fell 27% to $363m, while personal lines profit jumped five-fold to $364m from $68m.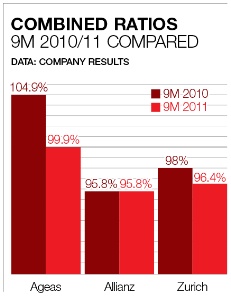 Although Allianz's UK GI book did not see a big improvement, it did not need to: its combined ratio remained static at 95.8%, while operating profits improved modestly to €142m (£121m), from €140m.
While the UK divisions of the three companies are performing solidly, group results were marred by sovereign debt exposures.
Allianz's net profit fell 80% to €258m in the third quarter after incurring €2.6bn of investment losses, which the company blamed on the debt crisis and falling stock markets.
Ageas made a net loss of €534m after suffering losses of €615m related to the financial turmoil. The company attributed €503m of this
to Greek sovereign exposure and €112m to impairments in its equity portfolio because of falling markets.
Last week the debt crisis moved to Italy, causing volatility in the share prices of AXA, Aviva and Allianz.