Insurer admits weak underwriting result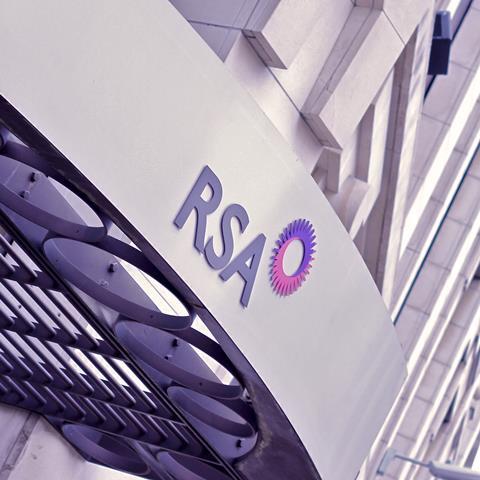 A soft market and its ongoing restructuring plans have driven down net written premiums at RSA by 9% to £5.7bn.
RSA does not report profits in its quarterly updates but said its underwriting result was weak overall. However it made £198m in profits from disposals in the third quarter.
UK premiums were 19% lower in the first nine months of 2014 at £2bn. This was largely down to the restructuring of its Motability contract in October. Excluding Motability, premiums were down 7%.
Personal lines net written premiums shrunk by 7% in the first nine months of 2014 to £886m (2013: £948m). This was driven by a 30% fall in motor premiums to £206m (2013: £295m) as RSA pulled out of broker-only distribution. Household premiums were down 1% to £480m, which Hester said outperformed the market in the context of competitive conditions and a softening rate environment. Pet premiums were up 18% to £200m which was driven by rate increases to offset inflation in vet fees.
UK commercial net written premiums were down 27% to £1.1bn, primarily because of a reduction in Motability premiums. Excluding Motability premiums were down 8% as RSA said it looked to maintain underwriting discipline in a competitive and soft market.
It strengthened reserves for its UK professional indemnity book by £27m relating to 2008-11 underwriting years and accounts which it has now since exited or remediated.
Liability insurance was the only commercial line which RSA has grown this year.
"During the quarter we have continued to generate improvements in the underlying current year loss ratio," it said. "UK personal was the exception to this trend in Q3 with backwards movement.
"We have continued to reduce expenses and are making good progress against the targets set out earlier in the year, though expense reduction will initially lag premium reduction."
Group chief executive Stephen Hester said: "The building blocks to support RSA's recovery are coming together. Since H1 we announced new disposals in Singapore, Hong Kong, China and Italy. The disposals of Noraxis, and our businesses in Poland, Lithuania and Estonia have completed, booking strong gains.
"Our capital position strengthened further through these disposals, and a £400m subordinated bond issue in early October underlined RSA's credit improvement. We are progressing well in the areas of cost reduction, underwriting actions and refreshing our management line-up.
"Overall, work continues towards meeting the medium-term performance targets we have set. Soft insurance and investment market conditions and a conservative outlook for prior year profit emergence seem likely to put even more emphasis on improving underwriting and cost re-engineering, which will take time to have full effect."