It's a week of showbiz stories this week as the Backchat Insider learns of Novae's very own axe man, and finds out who rents their Bermuda property from none other than film megastar Michael Douglas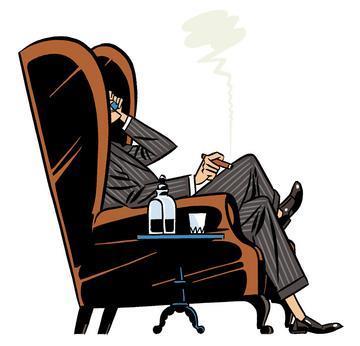 Upside your head
It's not always easy being the boss of Brightside. Chief executive Arron Banks has just finished a gruelling nine-day drive across east Africa for the charity Alive & Kicking. Arron contended with 40ºC heat and faced stiff competition from the other drivers. My spies tell me that he also managed to roll his 1966 Ford Escort a couple of times during the rally.
Leagues of gentlemen
Former justice secretary Jack Straw was expecting a grilling about insurance when he took to the stage at a recent Brokerbility event, but was perhaps not expecting to field questions about football. Straw is an avid Blackburn Rovers supporter and honorary president of the club, a fact that was not lost on Brokerbility managing director Ian Stutz. "We will not be asking any taxing questions, like how they try to avoid being in the bottom three at the end of the season," Ian said when introducing Straw. "With difficulty," Straw replied with good grace.
Gender agenda
Ever wondered what the ex-chief executive of RSA UK, Bridget McIntyre, is up to these days? Bridget has set up a company called Dream On, which gives guidance and support to women. The company helps women with their ambitions, health and style. Quite a change from insurance, but I wish her all the best.
Fosh quashed
Boy George, Pete Townsend, Chris de Burgh, Joss Stone, Midge Ure - the pop stars were queuing up to perform at the recent Prince's Trust Rock Gala, backed by Novae. Chief exec Matthew Fosh is a keen guitarist in his own right, and rumours that he had to be restrained from joining the acts out on stage are still unconfirmed.
Keeping the competition on their toes
While I was taking in the sun in Bermuda recently, I bumped into former Ariel chief executive Don Kramer. Don is also chairman of the American Ballet Theatre, and he is keen to spread the good word. Addressing a room full of reinsurers, Don vigorously extolled the virtues of the ABT performance of The Nutcracker over all other versions. Judging by the amount of nods I saw from the audience, he's won quite a few converts.
Rental Attraction
Landlords can be many and varied, but my old chum Jed Rhoads of Alterra Bermuda has picked a good one. I paid a flying visit to Bermuda this weekend to catch up with the Alterra executive vice-president and chief underwriting officer, reinsurance, who told me that his landlord is none other than Michael Douglas. I didn't have the guts to ask Jed how much the actor was charging him in rent, but after all, "greed is good".
Sex sells
Jack Straw's opinion that rating risks by postcode should be reformed has caused a few ripples in the industry as insurers pondered what would happen if another motor rating factor was taken away from them. "I'd love it if they brought back gender pricing," one insurer mused wistfully.