At our gathering of industry bosses, brokers expressed worries that their advisory role may become redundant in the e-trading age. They also feel the lack of clarity about the future of flood insurance prevents them from advising their clients. Finally, the panel debated whether insurers unhappy about their broker network deals will follow in Aviva's footsteps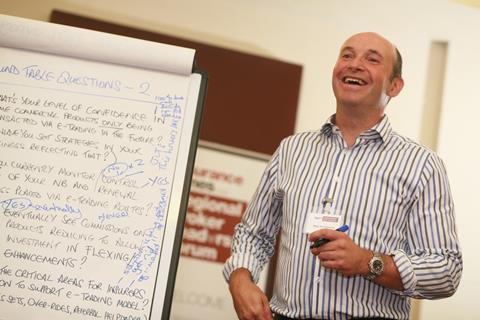 The agenda
1. Will commercial lines e-trading become commoditised like the motor market?
As software houses develop ever more sophisticated ways to e-trade increasingly complicated products, could the advisory role of the broker be made redundant for some, if not all, SME commercial lines policies too?
Key points
Most of the brokers were not worried that commercial lines e-trading would reduce their roles as advisers, but some thought that reduced commissions from insurers could start creeping in.
Brokerbility chairman Ashwin Mistry said that the network had decided to step away from e-trading low-end commercial lines business owing to squeezed profits and professional indemnity worries, following the Café de Leq case.
"There is no way every single policy will ever be e-traded. The overwhelming majority, yes. You can never fulfil the entire market space with an e-traded facility"

Dave Burton, Blackfriars
We say …
The majority of commercial lines needs brokers, and larger risks are too complicated to be e-traded without any involvement from a broker.
2. What are the options for a replacement to the Statement of Principles?
The Statement of Principles on flood insurance is due to expire next year, but no replacement has been announced despite months of deliberation on the part of Defra, the Treasury, Marsh and the ABI.
Key points
Marsh's Project Noah and the ABI's Flood Re are the frontrunners, but other options include a 1% increase in insurance premium tax, and a council tax levy set by local authorities.
Project Noah was the "pre-eminent" solution, but many ABI members dislike it, said Brokerbility chairman Ashwin Mistry. "Within the ABI, if you speak to your composite markets, there is a strong difference of opinion."
I think the issue of flooding and the severity of storms that were only once every 10 years are now happening every year"

Ashwin Mistry, Brokerbility
We say …
The future of flood insurance looks murky, and even rumours from the main players contradict each other. The market needs certainty.
3. How will the future of flood insurance affect brokers?
Brokers have several concerns about their role in determining and dealing with the future of flood insurance. Intermediaries need to be able to give their clients insurance advice, but have little information to go on.
Key points
Former Defra minister Caroline Spelman has been replaced in a cabinet reshuffle, and Mistry said this had destroyed the link Brokerbility had built up with the department about the brokers' role in providing flood insurance.
Brokers should lobby their MPs to get their views on flooding heard, Mistry said. He added that until London floods, government will not upgrade the UK's dated drain network.
The 2007 floods showed the areas prone to flood because of waterways and rivers. But this is happening everywhere because the drainage can't take it"

Chris Dobson, Ageas
We say …
Brokers have the tough job of handling claims, and explaining what the future of flood insurance will be without clear guidance on the issue.
4. Can broker networks still give value to insurers?
Broker networks came under the spotlight when Aviva left the Broker Network preferred panel in June. But the break-up raised questions over whether other insurers unhappy with their network deals might follow suit.
Key points
The traditional network model of getting higher commissions for its members is likely to be overtaken by other services, such as compliance help, succession planning and marketing.
Attendees thought that the number of networks is likely to decrease, but that there will be no shortage of brokers wanting to join. Insurers could become more selective about which networks they deal with in the future.
The key thing is, you are never going to deliver for every insurer. So you need to work with a panel. You have to drive business through there. It is model-specific"

Robin Thomson, Bluefin
We say …
Unless networks can convince insurers that they are still relevant, more insurers will follow Aviva and review their places on network panels.
What we learnt
Bluefin managing director of broker partnership services David Hopwood
Q: What did you take from the presentations at the event?
A: It was very good. There were some interesting discussion about the e-trading with Ageas, and also we sponsored the discussion around networks and we got some great feedback on that. Pretty much everyone in the room supported our view around the need to provide value both to the members and also to the insurers.
The future of huge networks, with lots of members, where they are just delivering premium and nothing else, is probably going
to change"

David Hopwood, Bluefin
Q: What did you learn from the broker feedback?
A: We got some comfort that we have got it right [on broker networks]. There was quite a mix of people at that meeting - a broad spectrum - and pretty much everyone was saying the same thing, which was encouraging.
Q: What will broker networks of the future look like?
A: I think they will have to work much closer with their insurer partners and, in order to deliver that value, they will need to be smaller. I think the future of huge networks, with lots of members, where they are just delivering premium and nothing else, is probably going to change.
Delegate feedback
Westinsure Group managing director Norrie Erwin on networks:
"All parties need to add value, whether it's the insurer, broker or network. In simple terms, the insurer is looking for profit and growth. The networks have got to add value, and understand our members and what they need. What real, tangible benefit can we provide to them? There's always a healthy tension between intermediaries and insurers, because they are coming from disparate ends of the value chain. But our job, I believe, is to bring them together in a cohesive way."
Ageas distribution and development director Chris Dobson on claims:
"We took a view two years ago on household to price for weather. We have seen GWP fall off as a result. It is a strategic decision we have taken, as these events are happening every single year. We have a £300m household book, and the cost of the weather-related claims to us was around £20m-£25m. A lot of insurers won't do that; they would wait for the event and then say we are putting 15% on the rates."
For coverage of our events go to: www.insurancetimes.co.uk/events