Drivers see technology and social media as bigger safety threats than drink driving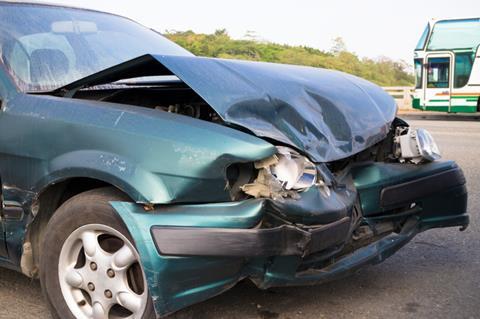 The driver data captured by telematics, along with increasingly autonomous features in cars – such as automatic braking systems, is expected to significantly improve road safety.
But modern technology also poses dangers, according to the Institute of Advanced Motorist's (IAM) Safety Culture Index report.
More than three-quarters of those polled said technology is now a bigger problem than it was three years ago, compared with 23% of people who felt drink driving is a bigger threat than three years ago.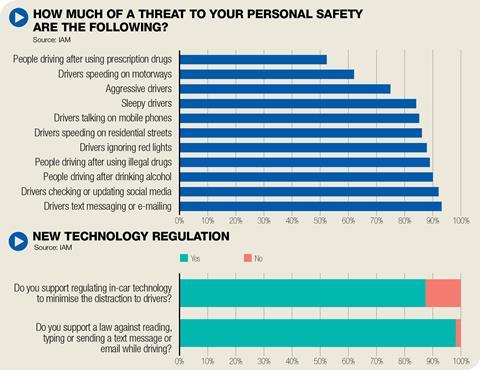 Click here for a larger version
According to respondents, text messaging and mobile social media use are the two biggest factors threatening personal safety and there is strong support for new laws to address traffic safety issues, including distractions (87%) and text messaging (98%).
Cyber concerns
The potential for the connected car to be exploited by cyber criminals is also a concern. Standards to promote consumer confidence around vehicle cyber security is essential, according to Thatcham Research. Cyber crime is estimated to cost the UK more than £27bn a year.
"No connected computer system can be 100% secure, and as technological development in the automotive industry continues at pace so that security threat potentially increases," said Thatcham chief technical officer Andrew Miller.
"It's critical to quickly establish a set of robust security standards and protocols around cyber security that everyone can agree and work to and which will avoid the kind of fragmented approach that hackers could exploit."
Thatcham is one of the newest members of the Cyber Security Consortium for Connected Vehicles (CCV). CCV was set up by Horiba MIRA, Intercede and Plextek to improve the resilience of automotive and transport systems to cyber attack.