Many insurers, brokers and insurtechs have overhauled their working models post-pandemic because 'a hybrid working model is now a requirement and not a nice-to-have'
The Covid-19 pandemic has changed the working model forever, as many organisations have opted to permanently adopt homeworking, such as insurtechs Ticker and Cytora, as well as law firm Slater and Gordon.
The Covid-driven move to increased homeworking has helped accelerate the digitalisation of the insurance industry, as well as enabled firms to save on overheads, for example office costs. Therefore, a return to office-based working is unlikely post-pandemic, meaning insurance firms will need to review their working models.
Steve Collinson, HR director at Zurich UK, said: "As the labour market tightens, employers need to rethink their approach to attracting and retaining talent. Workers want a new deal and are no longer prepared to work in outdated and rigid patterns."
In January 2022, for example, Zurich reported that its flexible working initiative - which initially launched in March 2019 - had resulted in the demand for part -time jobs nearly doubling.
The insurer now advertises all vacancies as part-time, full-time or as a job share, with the opportunity to work flexible hours. In the last 12 months, Zurich has hired 23% of women on a part-time basis - up from 10% in 2019.
As the UK settles into a 'new normal' following the pandemic peaks, the focus is on smart working – a hybrid working model that aims to deliver sustainable added value and positive changes for all employees by balancing the benefits and flexibility of both home and office working.
Axa Partners is just one of the firms adopting this approach.
Bob Ewers, Axa Partners' head of region for North America, UK and Ireland, told Insurance Times: "During the pandemic, it has become even more apparent that our people have different needs and understanding them is crucial in safeguarding our employees' wellbeing, which ultimately will help us all perform better.
"I feel strongly that our new working model will lead to improved wellbeing and higher engagement and productivity for our people.
"It also provides access to new talent for the business, as well as supporting the retention of the great people we already have. Really, a hybrid working model is now a requirement and not a nice-to-have."
Empathy is key
For Ewers, "empathy is key" when constructing a smart working model.
This centres around making sure employees feel supported - for example, parents with young children who would benefit from working flexibly, or staff caring for elderly parents.
He said: "We want to create an environment in which our team can work efficiently whilst balancing their other life pressures. The key to smart working is the word 'balance'. It's about balancing the benefits and flexibility of being at home with office life and collaborating with colleagues."
When the government's current work from home guidance has been lifted, Axa Partners will be encouraging its employees to work in the office two or three days a week, blended with home working - this aims to improve employees' physical and mental wellbeing.
Ewers added: "Businesses that don't allow a sustainable working model could lose out on great talent. Smart, flexible working doesn't mean business performance drops."
Back in March 2020, in conjunction with the first Covid-19 lockdown, Axa Partners moved to a 100% work from home model in a matter of weeks. Ewers explained that there was no detrimental impact to customer services as a result of this action due to the firm's prior investment in technology.
He continued: "We are inspiring our workforce to switch off and take time for themselves. We encourage our people to enjoy the extra time they get from not commuting and use it to exercise, spend time with loved ones or even catch up on sleep."
Supporting this mindset, AXA Partners has launched its Wellbeing Hub, which provides staff with wellbeing-related information and resources.
In addition to this, employees have been given two extra days holiday in 2022, known as "wellbeing days", to encourage them to focus on their own wellbeing and switch off from work.
"I believe it's about keeping both our minds and bodies healthy," Ewers said.
Smart working also has a knock-on impact on the environment.
Ewers explained: "By cutting down on commute time, there is an obvious benefit to the environment from having less cars on the road and a reduction in public transport usage.
"It has been widely publicised that carbon emissions have already reduced since the start of the pandemic and the introduction of the hybrid working model."
Work-life balance
Technology company Genasys, which has offices in the UK and South Africa, implemented a hybrid working model around six months ago.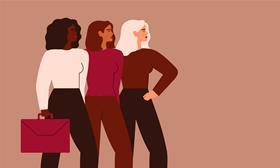 The insurtech's co-chief executive Andre Symes said: "Globally, we have deployed a hybrid work strategy - two days in the office and three days' work from anywhere; any hours as long as outcomes are achieved. Genasys will never be a fully work from the office business ever again."
Genasys' working model is founded on the successful work output staff can achieve from home. Symes added: "People are more trustworthy than their managers give them credit for."
Based on this trust relationship with employees, Symes wanted to give staff the opportunity to work flexible hours - this would then support staff members who were missing out on seeing their children, for example.
"We want our teams to have work-life balance because it drives happiness," he said. Symes has also banned video calls on Microsoft Teams and Zoom on Fridays.
Meanwhile, telematics insurtech Ticker has switched to a remote-first working strategy in 2020 after the pandemic opened founder and chief executive Richard King's eyes to new ways of working.
Remote working means the employee can work from anywhere, including at home or a café, for example.
King said: "With a hybrid model, you negatively affect those who aren't local or work better at home. Having some of the business in the office and some remote also affects communication – and the people in the office end up on Zoom calls all day.
"We took the opportunity of remote working to grow our talent pool, so we've hired people from all over the UK. It helps us be inclusive and welcome different ways of thinking from diverse backgrounds."
However, King does encourage his teams to get together often, as "that's when the magic happens". He added: "Going remote has given the team balance. Everyone has the choice to use the office for creative work and socialising (when it's safe), but they can do their jobs without the stress of switching from one way of working to another all the time.
"At Ticker, we've always put a huge emphasis on mental health, so I brought in a psychologist early on. Having that resource through the pandemic has been brilliant, and she's worked with individuals and teams to keep us all resilient."
In October 2021, Ticker confirmed that half of its senior positions were held by women. The insurtech has been working towards a 50:50 split of male and female staff.
Like Symes, King said: "A better work-life balance means our people have the freedom of choice for their families. We can offer parents more flexibility, which has helped us achieve a 50/50 gender balance, with a majority-female management team. Someone coming back to work after parental leave can be so much more present for their child. That's a game-changer."
He added that the benefits of remote first working helps staff do their jobs better. "A calm, happy, healthy person is more efficient and has more energy. We've shown that in our results, which is why we decided early on that we'd stay remote-first," King said.
What are the biggest business benefits of remote working?
According to research covering Lloyd's and the companies market, conducted by professional services company Accenture and published in September 2021, the biggest benefit of remote working is a better work-life balance, followed by higher employee satisfaction and the reduced need for office space.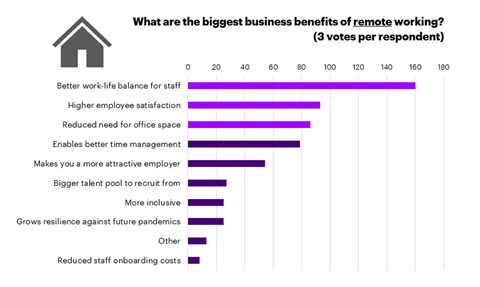 How can firms ensure hybrid working is successful?
Accenture's research further highlighted that the benefits of combining remote and office working "must be balanced" in order for it to be successful.
In a corresponding blog on Accenture's website, Alexander Cherry, research lead for insurance, UK and Ireland, and James Thomas, managing director of insurance, UK and Ireland, said: "We expect a compromise between traditional face-to-face and new remote channels - offices and in-person meetings will remain in place, but staff will benefit from an uptick in flexibility.
"Sweeping changes may well not be necessary, but firms that choose to ignore the incremental staff benefits of homeworking [are] likely [to] do so at their peril. The same applies to firms that see remote [working] as a one-off fix and ignore its ongoing human implications."