Insurer unveils new five-year plan for its Commercial Lines and Personal Intermediary unit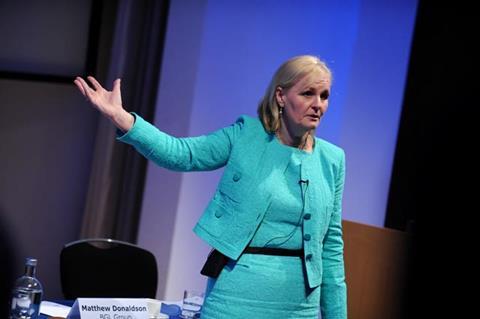 AXA Commercial Lines and Personal Intermediary is aiming to hit a 95% combined operating ratio in five years' time, according to chief executive Amanda Blanc.
The division is also targeting 10% growth a year in its commercial gross written premium (GWP) over the next five years and 5% a year growth in brokered personal lines over the period.
AXA did not reveal a new GWP target, but Insurance Times estimates the company will be writing around £2bn by 2020.
The goals are part of the division's new five-year plan, which Blanc unveiled in Paris on Wednesday.
This replaces the existing five-year plan, which began in 2011 after Blanc took over as head of AXA's UK commercial lines operation.
Under the existing plan, AXA is targeting a 96% combined operating ratio (COR) and £1.2bn GWP in commercial lines alone by the end of 2015. Since the plan was launched in 2011 Blanc has also taken responsibility for AXA's brokered personal lines business.
Revealing the new five-year plan, Blanc said that although the company is targeting growth over the next five years, with some units planning to more than double GWP over the period, the expansion will not be at the expense of profitability.
She said: "The market is massively competitive and we are not prepared to chase the market down and do really stupid things."
Five big bets
The company's efforts over the next five years will be focused on what Blanc described as "five big bets".
These are:
Growing the direct micro-SME commercial unit's GWP to £250m from £100m with the help of investment in digital marketing to the tune of "tens of millions of pounds".
Growing the GWP of commercial e-traded business Connect (previously known as Simple) to £250m from £100m under the stewardship of new e-trading director Deepak Soni, who AXA hired from Hiscox in December. The company will launch new e-traded products to complement the existing AXA Business Choice commercial combined product. The next product, mini-fleet, will be launched in May or June this year.
Growing the mid-market business written by AXA's 12-strong branch network from its current market share of 3% to 15%, improving the branches' efficiency and increasing the average premium of the business written in the branches to £15,000 from £6,500. The mid-market growth will be facilitated by a new broker club called Premier Partners.
Getting the brokered personal lines business up to speed with data enrichment and growing its non-standard motor and home books. The company is expecting annual growth in brokered personal lines GWP of 5% a year over the next five years.
Pursuing a three-pronged growth strategy with AXA-owned broking group Bluefin. This comprises small acquisitions, developing the new Bluefin Underwriting managing general agency and organic growth.
Overarching goals
Blanc also set out three overarching strategic goals for the Commercial Lines and Personal Intermediary business:
Further improving the claims process, which includes digitising the process for simple claims; publishing client reviews of the claims process online (starting with commercial direct claims in the second quarter); and rolling out its eServe web-based claims information portal to direct customers following its launch with brokers last week.
Further improving transparency and trust, including making all documents as clear as possible and publishing renewal premiums alongside last year's premium, starting with the direct commercial business.
People development, including training and new hires, backed by "millions of pounds" of investment from parent group AXA.
'Far from done'
Blanc also revealed how the divisions had performed in 2014.
The direct commercial business produced a COR of 105.7% after being hit by a £17m motor trade claim. Blanc said the division typically reports a COR in the mid-nineties and had grown its policy count by 50%.
The brokered commercial business, including the e-traded and branch business, reported a 95.6% COR after growing GWP by between 9% and 11% over the past three years.
The brokered personal lines business, which came under Blanc's remit in 2012, reported a COR of 103%. The unit had previously been part of the direct personal lines division, where Blanc said the company had suffered from underinvestment in key areas such as data enrichment.
Blanc said that the brokered personal lines division's new managing director, Laurent Matras, who rejoined AXA from Groupama UK in January 2014, has been working over the past year to help the division catch up with the rest of the market. She said: "He has done a fantastic job to get us to the point where we are now, but he has still got some work to do."
Overall, AXA Commercial Lines and Personal Intermediary delivered a COR of 97.5% in 2014, which Blanc said was "ahead of where we said it would be".
But she added that there was still work to be done. She said: "The turnaround may be done, but the transformation of the business is far from done."