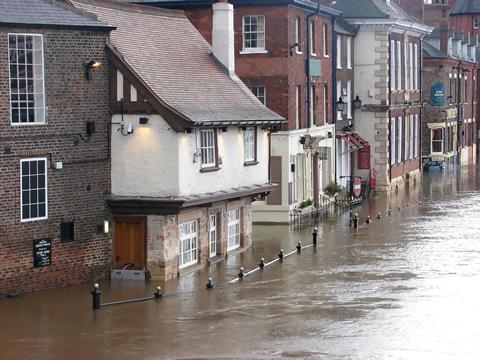 Briefing by Saxon East
The devastating impact of the floods on insurers underwriting performance in commercial property can be revealed today.
Of the six insurers studied by Insurance Times (Aviva, RSA, Allianz, AXA, Ageas, DLG) total combined ratio deteriorated to 104.59% in 2015 from 94.55% in 2014.
| | 2015 | 2014 |
| --- | --- | --- |
| Aviiva | 106.1 | 89.28 |
| RSA | 103.47 | 105.42 |
| Allianz | 106.41 | 91.11 |
| AXA | 98.52 | 89.10 |
| Ageas | 111.37 | 97.62 |
| DLG | 109.05 | 94.16 |
| Overall | 104.59 | 94.55 |
All the insurers featured are commercial property insurers, and would have taken, to varying degree, hits from the floods.
The surprise in the 2015 PRA Returns is AXA, which still managed to post an underwriting profit of 98.52%, even if it was considerably worse than 2014's COR of 89.10.
The floods have made it difficult to assess who is taking action to improve combined ratios out of the insurers studied.
These losses are unlikely to have any major shift on pricing. Indeed, all insurers have said the floods were within an expected range of losses for a catastrophe event.
Having said that, whether insurers can stand another year of flodd losses and hope to mantain price levels is another story altogether.
In the coming years, as insures look to improve their underwriting performance, it is likely that technologies will help cut claims in underwriting performance.
As the British Gas's Connected Homes director Kassir Hussain revealed at Insurance Times's 2016 conference, their hive device could cut claims by 25%.
In the future, these devices will also be installed in commercial properties, having a dramatic effect on burglary, damage from floods, fires and escape of water.
In the meantime, there is not much insurers can do apart from continue to keep a tight control on expenses and price up the risky parts of their business exposed to property claims.