Premium content: As the terror threat elevates insurance options remain inadequate - but a solution could be at hand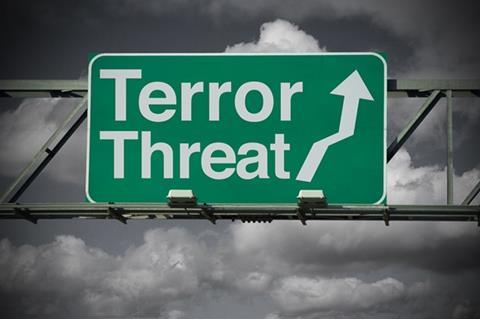 Pool Re's latest bi-annual Terrorism Threat & Mitigation Report has wide-ranging implications for the general public and the UK Insurance industry.
It ranges across topics from where in the UK is most vulnerable to attack and how terrorists might attack to systemic and potentially catastrophic gaps in cover against terrorist and cyber attacks. There was even a mention of Donald Trump, and the potential impact of his foreign policy on Islamic extremism.
But what did the report say about the state of only emerging risks and the UK insurance industry's ability to service them? And how close are we to the much heralded terrorism ILS or catastrophe bond?
The answers are respectively: a great deal, and a great deal closer.
Here, in brief, are the key findings and implications from the report.
The terrorism protection gap is moving – in the wrong direction
There are significant and emerging holes in terrorism-related insurance cover, including political violence and cyber risks, and specifically a denial of access attack, or loss of attraction. The definition of terrorism is outdated, particularly with regard to cyber triggers which cause property damage, and has created 'olligical' gaps in cover which can be bridged. "There's an argument we should reconsider the definition of terrorism," Chief executive Julian Enoizi said.
The creation of ILS Terrorism Bonds is moving closer
An ILS or catastrophe bond comprising terror-related risks is a viable commercial option, providing risk models improve. Capital market conditions are favourable, and Pool Re's work with a range of stakeholders, including the Judge Business School in Cambridge, to devise a model could bear fruit within a few months. Enoizi has recently said the provision of an ILS bond "should be embraced as a logical next step," and added if the market could solve the issue, it could create the 'gold standard' in terms of property damage cover while protecting the taxpayer by distancing them further from the risk.
Pool Re's reserves currently stand at £6.2bn, and government support is only required if these reserves and subsequent reinsurance, added in March 2015, are exhausted. Previous terrorism-related claims total £635m spread over 13 events. Future losses could be much higher, given increased property values and density.
Small businesses and the regions are vulnerable
SMEs are the less well-equipped to withstand cyber-attacks, from both internal and external sources. Pool Re will do more to support them, it says, including amending cover and offering discounts for companies meeting accredited risk management standards. "In terms of systemic risk, cyber is about as systemically catastrophic as it gets," Enoizi said.
While London is more alert to the overall terrorist threat, the regions' exposure is higher than previously assumed, due to both a lack of insurance uptake and terrorists widening the scope of their targets. Enoizi said that current terrorist activity was less concerned with spectacular events, and increasingly with causing fear and panic, leading to longer-term disruption, referencing the economic after-effects of attacks in France and Tunisia.
As part of its reinsurance arragements, Pool Re's role remains the communication of appropriate resilience-building information, to both the insured and the insurer.
Emerging risks are low for now – but the overall threat remains severe
The likelihood of cyber-attack from an organised terrorist group is low, as networks remained focused on using the web for co-ordinating their activities – a point of view echoed by another report this week from Hiscox. The threat to the UK from a chemical weapons or drone attack is even lower, but the overall threat to the UK, as a result of improvised explosive decives or knife attacks, remains 'severe and persistent'.