Book now to get your tickets for Cyber Insight 2018, taking place on 14 November at The Tower Hotel, London
There is less than four weeks to go before the Insurance Times Cyber Insight 2018 event.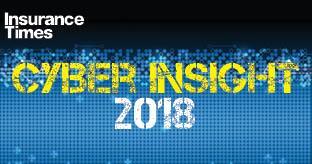 In the run-up to Cyber Insight 2018, events researcher Ekaterina Dimitrova will be interviewing nine of its speakers on industry topics within cyber and previewing what will be on the agenda.
She caught up with Cliff White, head of cyber at Manchester Underwriting Management (MUM) this week to discuss the future of cyber insurance and the dilemmas faced when putting together a policy.
And last week she talked to James Burns, cyber product leader at CFC Underwriting on the SME landscape and what barriers there are that prevent this type of insurance becoming a "must."
Cyber crimes are a growing threat as the world becomes increasingly interconnected with an estimated seven million cyber-crimes committed against small businesses in the UK every year.
Hiscox revealed in a recent report that small UK businesses face the threat of 65,000 cyber attacks per day.
And with nearly all companies operating in some way online now or via a mobile app, it has caused a surge in the need for cyber insurance.
However, many businesses still massively underestimate their exposure to a cyber attack and are not prepared to deal with loss in the event of these attacks, with their clients and customers also being at risk.
Many businesses have woken up to the risk posed by cyber crime and data disclosure following the introduction of the new EU regulations, leading to an increase in sales post GDPR.
Willis Towers Watson (WTW) corporate risk and broking launched the Airport Risk Community (ARC) this month after cyber threats were cited as a risk to general aviation.
The Cyber Insight event will offer brokers the insight to secure the most suitable cover for their clients.
It will explore:
How is the cybercrime landscape evolving?
What the latest products on the market are and how consumer needs have shifted.
Data protection and GDPR: what this means for cyber insurance?
And lastly the day will be capped off with essential tips on selling cyber, unravelling policy wording, and the difference between a bolt-on and standalone policy
Speakers on the day will include Graeme King, business group leader in cyber at Barbican Insurance and Neil Hare-Brown, chief executive at STORM Guidance, as well Brett Warburton-Smith, partner at Lockton.
Cyber Insight will take place on the 14 November at The Tower Hotel, London.
Click here for tickets and more information.