Jewellery, fine wine and classic cars. The playthings of the super rich all need insurance – and brokers are happy to provide it. We find out how to tap into the lucrative high net worth market
As the press rages against bankers and their huge bonuses, the City boys and girls rub their hands with glee: the good times are back.
But what are they to do with all that lovely lolly? With few sexy investments in traditional markets and interest rates so low that inflation eats away at cash savings, many are investing in property, art, vintage cars or even a racehorse or two.
One of the most successful investments of the past 12 months has been gold, which appreciated by 20% in the last year. But along with a new Port Oro marble fireplace and Aston Martin DB7 with custom-made pink leather seats, newly acquired Krugerrands need to be insured – which is good news for brokers.
According to financial research company Defaqto, brokers still account for at least 85% of the high net worth (HNW) home insurance market. And once in, it is one of the most reliable sources of income a broker could hope for, with renewal rates running at more than 90%.
"Intermediaries are still king within the HNW home insurance market," Defaqto general insurance insight analyst Mike Powell says. "It is clear that HNW customers continue to turn to intermediaries for cover. HNW customers require specialist advice as the risks involved can be complicated and the intermediary market is well placed to provide this."
HNW brokers can expect impressive premiums and loyalty – but also some peculiar requests.
TH March &?Co associate director John Watson, has seen a few in his time. "We once had a claim for a bracelet allegedly eaten by one of the insured's chickens," he says. "An insurer's normal response would be that the item is not lost, and will be restored to the owner when nature takes its course. Intriguingly, this particular bracelet failed to make a reappearance. Presumably someone got a nice surprise when carving their bird, but our clients still got paid out."
Royal gates
On another occasion Watson had to source a specialist company to measure up, fabricate, and install a set of stolen gates that had been modelled on those at Buckingham Palace.
"The client was delighted," Watson says. "HNW insurers will go that extra mile to ensure very happy and very loyal customers."
It is this kind of no-quibble delivery that can earn HNW brokers the reputation that is crucial in securing new business.
"Whether it's handymen or a new service provider, a personal recommendation is always stronger than a flash website or good phone manner," says one client, management consultant Andy Williams. He took out HNW insurance for the first time last year after a colleague's flat was flooded, destroying a collection of valuable books.
"I couldn't believe how quickly the insurers sorted the problem. I thought: 'God, I'd pay for that level of service'. I got a couple of quotes but ended up using the same firm as my colleague. Having seen how his problem had been resolved, I had confidence in them."
Who you know
But how do HNW brokers find these very loyal customers? As in Williams' case, it is more often than not who you know that counts.
Lark Insurance group managing director Stephen Lark says: "We've found that cold-calling and direct mail shots are particularly poorly responded to in the HNW area. We encourage referrals and recommendations from our existing client base. They tend to talk to people they trust or see that a product is particularly targeted at them."
"Word-of-mouth recommendations are key in our industry," Blackwall Green associate director Alexander Rich says.
"When I was working at a previous firm, I looked after a London silver dealer who was the centre of a web of clients, all of whom had been introduced by him.
"He was the nephew of a porcelain dealer, whose brother was a contemporary art dealer.
His cousins and father-in-law were all prominent members of the trade. We looked after them all and lived in fear of the ramifications if we messed up with any one of them."
Some HNW brokers will go further than others. One salacious story that goes around the market is of a broker propositioned by an ultra high net worth client: he would get the business only if he agreed to provide "favours" in return. He agreed, so the story goes, and the two men went on to have a mutually profitable professional relationship.
Personal relationships are not the only way to find HNW clients. Sometimes trade just means trade. "If someone's taking out a sizeable mortgage and the conversation turns to insurance, at that stage the mortgage broker would refer it on to us," Lark says.
The company also works closely with the Listed Property Owners Club, which can bring in custom. "We understand the particular issues they have to deal with, so we can offer them specialist advice," Lark says.
Rich agrees. "If you go to a gallery and buy a £50,000 painting, as you leave with the picture under your arm, the gallery owner may ask whether you are insured," he says. "It's a great time to get your company recommended. Having a strong relationship with auction houses, galleries and high-end jewellers can be worth its weight in gold."
Wealthy, moi?
Extraordinarily, some HNW clients do not realise they are HNW. "Kate and I never thought of ourselves as being rich," Williams says. "We both had good jobs and having lived together for a decade while both working we had built up a respectable collection of things.
"It wasn't until we decided to try for children and move to a bigger house that I even thought about changing insurance provider. When I did, I couldn't believe how lucky we'd been that nothing had gone wrong. We were woefully underinsured."
This is not an unfamiliar predicament, according to Chubb Insurance, which says that eight out of 10 British households are underinsured.
Chubb personal insurance manager Simon Mobey says: "When our assessors visit someone's property, you often see their eyes open wide. We have known people who discover that their current mainstream insurance will only cover the contents of one small room."
Hedge fund manager James Saunders turned to a specialist broker to insure his wife's jewellery and their collection of wine in a Knightsbridge terraced house after he tried to get a cheap deal from a high street bank.
"When I was asked if anything in my property was worth more than £300 I knew I wasn't speaking to the right people," says Saunders, who has been with the same broker for 10 years.
New clients can also come from the unlikeliest encounters. Perkins Slade client relationship and development manager Jill Kerrigan landed a new HNW client after getting lost on the way to another client's country pile. After giving the name of her client, she was brought into the house.
"It was the housekeeper who met me at the door," Kerrigan says. "I gave my client's name and she must have thought I was announcing my name and invited me in. She said the lady of the house will be down. When this lady came down, I said: 'You're not Mrs so-and-so'. We had a laugh about that. That's typical of me – I have a terrible sense of direction."
The lady of the house became a client on the back of that meeting.
It's a personal touch that direct insurance providers will have difficulty matching. And brokers worried by the apparently unstoppable rise of aggregators may take one piece of advice: take the high road. IT
Case study: Wilby's historic policy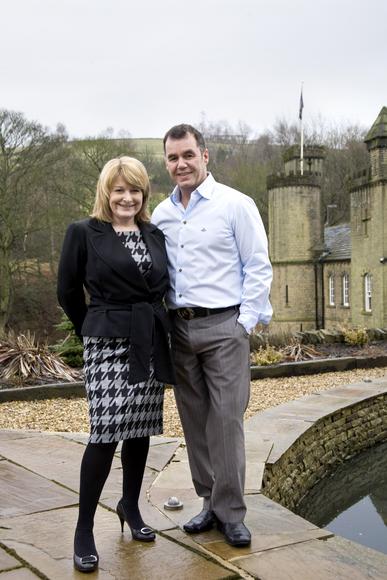 Carr Hall Castle is nestled in a wooded valley outside the historic town of Halifax, West Yorkshire, and looks like a scene from a fairytale. Since buying the property in 2002, Terry Kernachan and Michael Rothwell have embarked on a labour of love, spending £1m renovating the grade II-listed property.
Complete with battlements, towers, arched windows and with a lake in the grounds, inside the castle you will find a swimming pool, luxurious suede sofas and a plasma TV. The property is now on the hot list as a reclusive getaway for celebrities and a venue for weddings. High net worth brokerage Wilby associate director Christine Sharpe has played a vital role in transforming the castle into the dream destination it is today.
Exposure
In 2008, the castle came first in the TV competition Britain's Best Home, leading Kernachan and Rothwell to consider letting the property for vacations and weddings. This new venture, however, brought a number of risks that their insurer was not prepared to cover.
What's more, Kernachan had taken part in ITV's The Secret Millionaire a year before and was concerned about the additional risks this publicity presented. "It did worry me because when you do a programme like that, you are shouting about the fact that you have got money," he says. "Then you hear about people who have been kidnapped and that can be quite scary, so I wanted to make sure I was covered for that risk as well."
Through recommendations, they came into contact with Wilby's Sharpe. According to Terry, she made a good impression from the start. "I thought she could do the job. My first impression was that she was competent and professional, as well as being very approachable."
Sharpe relished the challenge that the castle presented. "It was clear to me that Michael and Terry were absolutely passionate about this building and had spent a lot of time getting it to the gorgeous state that it is in now. The challenge was to ensure that they were covered with a quality product that would also protect them on the business side."
Good rapport
When Insurance Times met them, Sharpe and her clients appeared comfortable with each other, joking regularly and engaging in banter. Kernachan believes their strong personal connection helped cement the foundations of a good professional relationship. "It works because we get what we want. When we went to Wilby, Christine talked us through everything, and went through the policy," he says. "The best advice that Christine has given us is to shop around, not to rush into any rash decisions, to read the small print and to make sure that everything we wanted to have covered was covered."
Sharpe keeps in regular contact by email and telephone and she visits the castle twice a year to double-check her clients' requirements. They also meet socially at charity events organised by the entrepreneurs. Sharpe, who has been a broker for 20 years, believes that establishing a good rapport has been vital in sustaining the partnership. "Everything is about relationship. If you don't have a good relationship, then you won't have the client," she says.