Debt write-off means motor insurer now has solid balance sheet to drive its transformation programme through 2014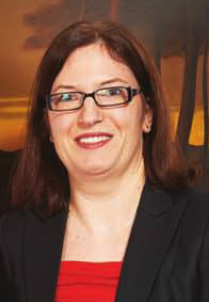 Australian insurance group IAG wrote off more than £400m of debt on the sale of the former Equity Red Star, according to Companies House filings.
The latest set of ERS accounts revealed that £439.1m of debt was written off by IAG in 2013, helping the motor insurer make an overall profit despite reporting an underwriting loss.
ERS chief financial officer Katie Wade (pictured) confirmed that the debt forgiveness was a result of the £87m sale of the company to private equity firm Aquiline Capital Partners in December 2012.
The debt write-off means that ERS is now sitting on a strong balance sheet, with shareholder funds reported as £117.8m as at 31 December 2013, compared to a deficit of £351.7m at 30 June 2012.
This healthy balance sheet provides ERS with a strong foundation to make further investments.
The business is also undergoing a transformation programme that has seen it cut back unprofitable business, selling all non-motor business and returning to a broker-only model, while focusing on motor cover where it believes price competition is not as strong.
Wade told Insurance Times the investments would increase costs temporarily. However, she expected 2014 to deliver a slight improvement on the 104.9% combined operating ratio (COR) reported for the 18 months to the end of December 2013 (12 months ended 30 June 2012: 103.5%).
"We are trying to reduce headcount and implement new IT systems, but you have to spend to reorganise staff and put in the new IT systems to get the savings in future years," she said. "In 2013 our expense costs went up a bit to settle that, and our business volume shrunk so the COR ticks up. In 2014 I do think there will be an improvement, but we are still spending on transformations costs."
Wade said the bulk of the transformation spending will have been completed by the end of this year, with ERS beginning to feel the benefits of the remedial action it has taken in 2015.