Igal Mayer's tough line on pricing and broker commissions didn't make things easy for Aviva's high-profile broker liaison. Since then, the insurer has had a turnaround in tactics – and fortunes. But there's still plenty of work to be done
"I bet you 50 quid she won't see you alone without a press officer. Insurers never do." So said one broker during the research for Insurance Times's interview with Aviva's partnerships and intermediary director Janice Deakin. She did though – and that's Deakin all over. She's ballsy, afraid of no one, and always ready to give as good as she gets.
She's also an Aviva stalwart and, during the past few turbulent years, was for many the acceptable face of the UK's biggest insurer. Today, she's ready to talk more candidly about the tough times than any member of Aviva's senior team to date. And, as things are finally looking up, she admits that she may have a future beyond Aviva – one day.
Aviva is not in a bad place. Its latest results make impressive reading, with a combined operating ratio of 96%, despite last year's cold snap, and an operating profit of £476m for the full year of 2010, up 12% on 2009's £424m. Compared to its peers, that's a great performance – and one that Deakin can take her share of the credit for.
The company attributes its success to the action it took under former chief executive Igal Mayer – action that left it very unpopular at the time. Let's rewind to 2007, when Mayer decided to lead the market on price and push down consolidators' spiralling commissions. It was a bold move, which upset a lot of people – the very people in the broker market that Deakin, and then head of sales and marketing John Kitson, were dealing with day-to-day.
Shoulda, woulda, coulda
So how did it feel to live through that? Sat – alone – with Insurance Times in Aviva's Fenchurch Street offices, Deakin chuckles and gives a knowing grin: she's been waiting for this. "There's no doubt that a lot of the things we did were necessary. We did an awful lot in a short space of time. That's what caused us most …"
She tails off here, but the sentence is easy to complete. At the peak of the storm, feelings against Aviva were running so high that one broker boss was allegedly escorted from the building by security.
She picks up again: "There's always a hindsight that asks, 'should I have done that differently?'"
Deakin was very much a team with her boss Kitson, and admits that their partnership helped her get through it. So how did she feel when he decided in September 2009 to go too?
"Oh bless him," she says quietly. "Igal was moving, and I knew John was leaving. I miss him personally, but I always knew he had a plan and I think it was the right thing for him. It was a new chapter for me, stepping up onto the exec."
Perhaps the worst thing about Mayer's controversial strategy and the subsequent rows with brokers was that it failed: other insurers didn't follow suit and Aviva did not turn the market. Instead, it wiped £1.1bn off its GI premium in 2009, and while results are improving, it is still fighting to regain lost ground.
Does Deakin have any regrets? "Lots actually," she says, "but I don't spend too much time on it. It's wasted energy."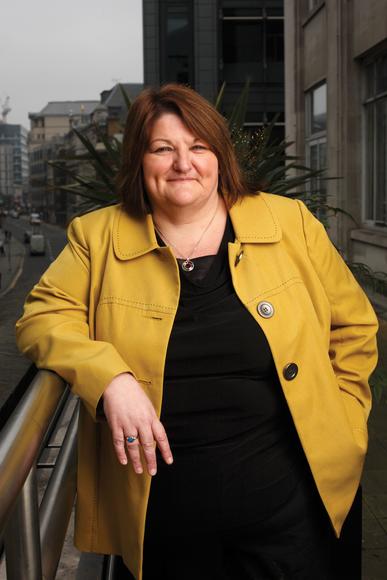 Tough times
Today, as the soft markets drags on, there are calls for a leader: once again, people feel that the biggest insurers should take responsibility. But once bitten, twice shy. "It isn't my job to look after the marketplace for the competition," Deakin says firmly, "though you could have asked me two years ago and I might have said something different."
Does she believe other insurers should have followed Aviva's lead? "Maybe they should, but you can only ever make that decision for your individual business at that specific period in time. Everybody talked about it, and AXA did look to follow for a while – but it came at a time when commercial clients were starting to get in trouble."
It was tough. As the top team changed around her – Mark Hodges came in as UK chief excutive and appointed David McMillan as general insurance chief executive – Deakin was the one constant. Given that she has only been in insurance 11 years (she used to sell helicopters), how did that feel?
"It hit me by surprise. It's gone like that," she snaps her fingers. "It's really important from an Aviva perspective – we do get a lot of feedback about changing personnel, as all insurers do, so it's important to have a constant. But it sort of snuck up on me!"
Best-laid plans
Thanks to her genuine passion for her company, Deakin is so associated with Aviva that it surprised some to see her publicly linked to the chief executive job at AXA commercial last year. She laughingly says it was "incredibly flattering" to realise she had such a high public profile, but it was never a serious option. So is there life after Aviva for Janice Deakin? "I'm sure there could be one day," she says.
"The biggest challenge for me would be stepping away from the broker world, because I love it. There aren't many places where you get to deal with entrepreneurs who have built their own business, day-in, day-out, rather than big corporations."
So how about jumping the fence and joining the broker world herself? She laughs: "If I had my time again, I'd come back as a broker."
But right now, there's plenty to be done at Aviva. Finally, the formula seems to be working and, this year, it's about more of the same.
Much of Aviva's growth has come from its Club 110 brokers, which will remain a significant channel throughout 2011. It will also continue to fight for more business from the bigger brokers – "key partners" – in personal as well as commercial lines, where it has already made significant headway.
"Our plan, like most, will be looking for profitable growth," says Deakin, resorting to that favourite phrase among insurers. "We're not envisaging a major market shift, particularly in commercial, to help that, so we believe that it is being excellent case by case that is going to deliver the profit."
You can't argue with the numbers, and Deakin's popularity among the brokers speaks for itself. It must be nice to be back on the front foot after such difficult years, and to be able to sit here now and reflect upon it. And, with no minders in sight, that's 50 quid up to Insurance Times. IT