Group head of IT Lisa Gibbard won the Insurance Times Technology in Insurance award for her role in heading up an overhaul of Aspen's IT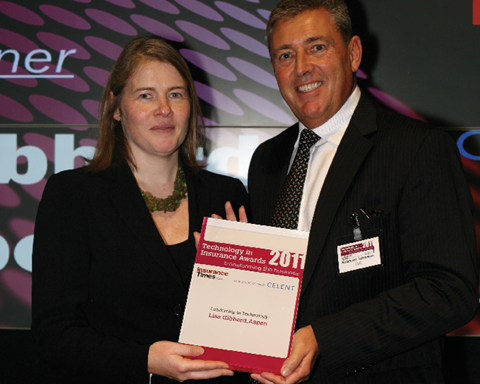 Gibbard is reluctant to talk about fine details, because the project has given Aspen such a competitive advantage. "The initiative was holistic," Gibbard said. "One of the key things I've been doing is looking at the IT structure in terms of how it responds to the business needs - actually improving the business/IT relationship to drive through change in technology for business advantage."
Gibbard is credited with raising the profile of IT within Aspen, and showing leadership through making tough decisions. Under her role, IT has a higher profile within the insurer.
She is also credited with a passion for using technology to give the company an edge and helping it to provide better service.
Gibbard set up the Technology Innovation Group, a collaboration between IT and business users, to look into ways to use the latest technology innovations in the workplace in a safe and secure way.
Another factor in winning was the charitable work that Aspen's IT department does. Aspen sponsors a hospital in Uganda, Gibbard said, which handles programmes in neonatal and HIV care. And the Aspen IT department went beyond the call of duty in terms of fundraising. The department raised tens of thousands of pounds for the hospital by holding charity auctions.
Gibbard has big plans for the future of Aspen's technology. "A lot of focus has been given to new ways of working, online collaboration, consumerisation of technology and how we leverage that in the organisation for real business benefit, as opposed to doing gadgety things for the sake of it, as a lot of people do in the industry," Gibbard explained.
In the sector as a whole, Gibbard would like to see a number of changes. "More online capability, more straight-through
processing, and using technology to enhance the end-to-end business process. It's boring but true," she said.
The other finalists in this category were Ian Hood of More Th>n, Peter Horton of LV= and Philippe Mazas of Beazley.
Hood joined More Th>n in August 2010. At the time, the company wanted a head of e-business to help it compete with aggregators and to keep its parent, RSA, appeased.
Hood started by pulling together a team of people to help the e-business and marketing teams innovate. Through his initiatives, More Th>n saw increased sales growth and a reduction in spend year-on-year.
LV='s Horton was involved in bringing in a new claims-handling platform for home and motor insurance after leading a review of the possible options. His guidance and hard work brought about new claims processes at LV= and reduced administration to free up claims staff for customer service.
Mazas was nominated for leading Beazley initiatives to make sure its technology kept pace with the rest of the business. One project he led was the International Under-writing Platform project, which allowed the company to more quickly deliver insurance products into the UK, USA and France.