'I don't come with any baggage … I just come and see what's in front of me'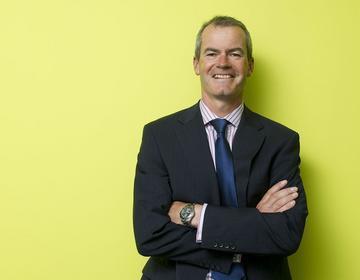 Marshall King furrows his brow momentarily. "We are not a firm of clones," the RFIB chief executive says before relaxing into his slightly crooked smile.
RFIB was born in the 1980s, a Lloyd's broker that typified the traits that define Generation Y: self-assured, demanding, ambitious, confident and innovative. King is a leader unafraid to embrace those characteristics.
Upon his arrival in September 2009, King swept the office clean of dead wood, weaving modernisation into the brand in order to remain nimble in a competitive environment.
"I've encouraged the firm to embrace the outside world," he says. "I felt it was hiding under a bush a bit and being a bit introverted. People in the market want to know about us."
Evidently, King is correct. Market interest is swelling for the "little broker with big risks", as King describes it. Results for the year ending 30 June 2010 show that RFIB's operating profit rose 17% to £3.5m from £3m, with brokerage also increasing 15% year on year to £46.5m.
So how did it all begin? Robert Fleming Investment Bank formed Robert Fleming Insurance Brokers in 1980, before changing the name to RFIB Group in 2004. Its staff have a majority share in the business along with independent investor, FF&P Private Equity, which owns a significant minority share.
RFIB offers coverage on a wide range of risks, from kidnap and ransom, to marine and aviation. But the emerging markets sector is the area in which the broker really excels. "A lot of the London market is now finding those exciting territories to deal with," says King.
He has assumed his role as Pied Piper of Lloyd's with gusto, leading the market into the riskiest of territories. RFIB was one of the first Lloyd's players to establish practices in Kazakhstan, Saudi Arabia and Russia.
But gaining respect from local insurers, understanding the risk idiosyncrasies within each market and overcoming cultural disparities is not a task for the impatient.
King points to a piece of paper taped above his desk – a licence from the Saudi Arabian Monetary Agency to broker insurance and reinsurance businesses in the country. "I have put it on my wall because it took so much time, effort and work to get it," he says.
While some Lloyd's brokers might be happy to take a free ride on the Lloyd's reputation train into these new markets, King is adamant that the name is merely a cloak to be draped on or heaved off when needed.
"Lloyd's is very well known. It is a franchise that we leverage. However, only half of our business is placed at Lloyd's. We are a Lloyd's broker, but we are not just a Lloyd's broker," he says.
Though King's passion for insuring emerging territories is infectious, his aims are far from altruistic. He believes there are substantial profits to be made from successfully infiltrating these under-subscribed markets.
"Just look at the penetration of all types of insurance in the developed markets versus the emerging markets, and you will see a huge difference. From motor to health to home, things that we in the West would assume are insured are quite often not in these markets," he says.
Nevertheless, corruption is an unavoidable reality of conducting business in developing nations and the quest for sizeable revenues comes at a price.
When questioned how RFIB deals with bribery, King pauses uneasily before answering. "Obviously we are aware that there is corruption in these markets, but we don't engage with people who are of that ilk. We are extremely clear on our principles about business and integrity. Without that, we have nothing."
Under pressure to elaborate on what "not engaging" actually means for RFIB's bottom line, King leans back in his chair and sighs deeply. "Yes, we sometimes suffer in terms of not winning business. Perhaps our competitors are not playing as straight as we do, but that is just life," he says.
Moving on to discuss his competitors, King has some unexpected views on the issue of market share of the big three brokers. He believes the Lloyd's market doesn't want to rely too heavily on the big three and has formed its own natural suppression strategies.
"There is a natural pressure to keep the big three contained," he says. "I don't think they will continue to grow in the same way. The mid-market brokers will start to pick off niches."
But, for every gain, there must be a loss and, according to King, David will lose to Goliath in this particular battle. "Conversely, within the smaller brokers, those with a £30m-£150m brokerage or smaller will struggle with regulation requirements and the costs it takes to run a firm."
King himself is all too aware of the difficulties of being a small fish in a big pond. After training as an engineer at Trinity College in Dublin and completing an MBA in France, Kingstarted a dotcom-style company from his bedroom and grew it into a mid-sized claims handling business with around 400 employees and £60m in turnover. "That was a good ride."
After a two-year career break, the offer to work with RFIB was too good to refuse. "Along came this opportunity that seemed very interesting: it embraced entrepreneurial ambitions, included independent-minded people and was private equity-backed."
He says it was a workable fit for both parties because RFIB needed a boss with more organisational skills than is traditionally required within the broker market. "I bring a certain amount of analytical structure in my approach," he says.
"I don't come with baggage. I don't come with any particular relationships. I just come and see what's in front of me."
When asked whether the natural compatibility of entrepreneurialism and organisation is like mixing oil and water, King throws his head back and laughs. "Granted, they are different skills but they are not incompatible. To grow a really strong business, you need good organisational skills."