Annual losses projected to rise to £12bn per annum unless action is taken, warns report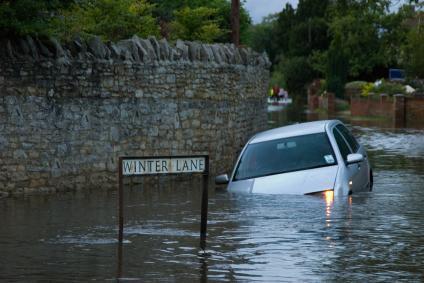 Major decisions are needed within the next five years on flood defence funding in order to prevent the risk of a nearly ten-fold increase in annual losses, the government has been warned.
The UK Climate Change Risk assessment report, published this morning, predicts that annual losses in England and Wales due to flooding could increase from the current average level of around £1.2bn to up to £12bn by the 2080s unless swift action is taken to adapt the county to the consequences of global warming.
The report bases this estimate on the assumption that average winter rainfall volumes could increase by between 3% and 70%, while sea levels around London could rise by between about 20cm and 70cm by 2095.
The report says: "Adaptation is needed to reduce the costs and damage of inevitable climate change and to take advantage of opportunities.
"In the field of flood risk management, major decisions on overall levels of funding and on the need for specific schemes will be required before 2020 to ensure that the UK is prepared."
Flood and coastal erosion risk management is one of the areas where there is the greatest need for action within the next five years, according to the CCRA report. And it says the impact will particularly affect the insurance sector.
"Annual insurance payouts resulting from flooding are also projected to rise significantly in future.
"As flood risk increases, an increasing number of properties may experience an increase in insurance premiums or may even find difficulty in obtaining insurance, resulting in difficulties obtaining mortgages. This has the potential to impact both the insurance industry and mortgage lenders."
The Department of Environment, Food and Rural Affairs is currently locked in discussion with the ABI over future flood insurance arrangements when the statement of principles, under which the industry offers cover as part of standard policies, expires next June.
Speaking at the launch of the report, environment Secretary Caroline Spelman said: "This world class research provides the most comprehensive case yet on why we need to take action to adapt the UK and our economy to the impacts of climate change. It shows what life could be like if we stopped our preparations now, and the consequences such a decision would mean for our economic stability."