The ABI motor premium tracker reveals falling premiums as insurers respond to government cost-cutting reforms
The cost of motor insurance fell by 9% last year, according to the ABI's first ever comprehensive motor insurance premium tracker, which launched today.
During 2013 the average motor insurance policy amounted to £374, a fall of 9% on 2012, while the average premium during the last three months of 2013 was almost £40 lower than the same period of 2012 at £370, the new tool revealed.
The tracker, which is based on data from ABI members and reflects what motorists are paying each quarter, also showed that the average cost of motor insurance policies had fallen by 11% since the first three months of 2012.
The figures come on the back of an ABI commissioned survey of 2,500 people that found British consumers are more likely to shop around for the best motor insurance deals rather than for energy suppliers, mobile phone contracts or cash ISAs – more than 81% said they would consider motor policies from at least one other provider before they purchased their policy.
The ABI's head of motor insurance James Dalton said the new quarterly tracker was designed to help people understand what drives the cost of car insurance.
Although he welcomed the 9% fall in premiums, he insisted that "more could be done".
"The government needs to press ahead with tackling exaggerated and fraudulent whiplash claims, which honest motorists are sick of paying for through their insurance premiums," he said.
"The car insurance market has faced several increased cost pressures in recent years, including dealing with an explosion in the number of whiplash claims, the excessive legal fees attached to low-value personal injury claims, lower investment returns and higher capital costs associated with catastrophic injury claims. Despite these pressures, the market has remained highly competitive, with motorists able to shop around for the best car insurance deal."
Premiums have dropped by 10.8% since Q1 2012 when the average premium was £415 (see graph below).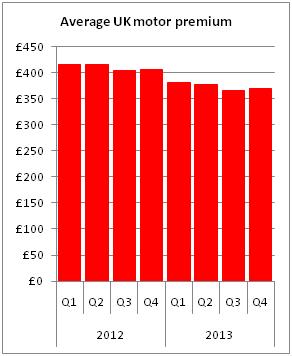 Speaking at the launch of the tracker, ABI manager, civil justice and data strategy Rob Cummings said insurers faced the "perfect storm" of falling investment returns and increasing personal injury (PI) claims.
"There's little doubt there's been significant inflation in the costs of motor insurance in recent years, which has had a negative impact on premiums," he said. "In a highly competitive market where consumers shop around based on the lowest possible price, insurers have historically looked to investment returns for help with underwriting losses.
"However, insurers have seen a massive drop in these returns and this, coupled with an explosion in the cost and number of personal injury claims, has seen pressure increasing on motor premiums. And this, mixed with the challenging reinsurance costs and the cost of fraud in the industry, [means] there's little surprise that insurers have not experienced underwriting profit since 1994.
"All of this has helped to cause a perfect storm of cost pressures for insurers, which has negatively impacted on motor premiums."
Dalton said the government now needed to press on with further reforms aimed at cutting the cost of motor insurance after insurers had fulfilled their promises to pass on savings to consumers.
Direct Line personal lines managing director Tom Woolgrove was keen to point out that lower costs and premiums did not always lead to a corresponding increase in profitability.
"The reason premiums have fallen is because our expectations of claims, both actual and observed claims, but also our claims inflation expectations have reduced," he said. "Clearly we welcome all of the reforms that have taken place to date. There's no doubt that the motor market is competitive and customers are enjoying significantly lower premiums than they were a year ago, but I would caution that doesn't necessarily mean it flows through to improved profitability for insurers."
"The reforms that have taken place have been critical to delivering lower claims and then therefore lower premiums," he added.