Average motor premium increased by 4.2% over Q3
The average cost of motor insurance has increased by 4.2% over the third quarter of 2014 to £891, according to figures released today by the AA.
This is the first increase since 2012, and will be welcome news for motor insurers.
However, premiums are still on average 14.4% lower than this time last year (see below).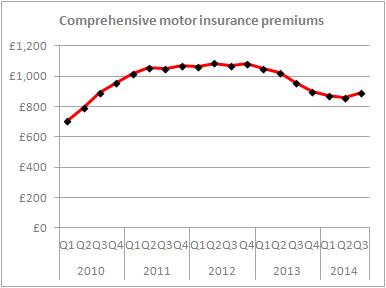 AA Insurance managing director Janet Connor said it marked the end of the downward trend in premiums that began at the end of 2011.
"Insurers reduced prices in anticipation that the reforms then promised by the Ministry of Justice in its Legal Aid, Sentencing and Punishment of Offenders Act 2012 (Laspo) would cut the number of fraudulent and exaggerated personal injury claims – particularly whiplash injury.
"But the truth is, falling premiums had more to do with competitive tension than any benefit afforded by reforms. Premiums are, on average, now similar to their 2010 level and are no longer economically sustainable."
The AA said that research released in the Hill Dickinson Claims and Fraud Index, published by Insurance Times, highlighted how claimants were still able to circumvent the Laspo reforms and that the industry had missed an opportunity to take more action against fraudulent claims.
"Insurers are getting better at detecting both claims and application fraud (where those applying for cover are 'economical with the truth'), yet the number of attempts to make a deceitful buck from insurers shows no sign of falling," Connor said. "These are serious issues for the industry and it's not acceptable that the majority of honest people have to stump up to pay for the dishonesty of others.
"My view is that many opportunities have been missed. As a result, I believe that this small upward move in premiums will lead to further modest increases over coming months. My hope is that increases will be cautious: it is much better that premiums rise gradually than customers eventually face another series of massive price increases as happened in 2009/10."
"How far they continue to rise, however, will depend on how effective the recent reforms eventually prove to be," she added.