However, ongoing BI disputes show the ramifications of the pandemic are not over yet, which could work to damage insurers' reputation, says data and analytics firm
Around a fifth (21.6%) of UK-based SMEs said their trust in insurers has increased as a result of the business interruption (BI) insurance legal action brought by the FCA, which clarified the interpretation of BI policy wordings for Covid-19-related claims, according to research by data and analytics firm GlobalData.
Its 2021 UK SME Insurance Survey, which surveyed 2,001 respondents and was published in quarter three of 2021, found that of the small and medium-sized companies polled, 38.5% had business interruption cover.
Although 21.6% of UK SMEs saw their trust in insurers grow due to the BI test case, 9.8% said their trust in insurers had decreased somewhat, while 2.8% confirmed that their trust in insurers had decreased significantly.
Nearly two-thirds (65.8%) of respondents, however, said the legal proceedings had not changed their view of insurers.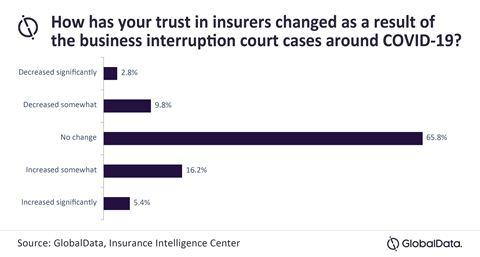 Ben Carey-Evans, insurance analyst at GlobalData, said: "SMEs' trust is likely to have increased because they have seen that even if the insurer disputes a payout, there is an independent court that can - and will - force it to pay if it is deemed to be liable.
"It is also likely that going forward, policy wording will be clearer, removing ambiguity for the eventuality of future incidents."
Carey-Evans added, however, that ongoing BI disputes, such as between insurer Zurich and bakery chain Greggs, could have a detrimental impact on insurers' reputation.
According to Business Live, Greggs has launched a £100m legal claim against Zurich after a disagreement about a Covid-19 linked BI payout – Greggs was forced to close around 2,000 stores and make 820 staff redundant as a result of the government's lockdown rules.
Filings lodged in the High Court last week show that Zurich believes Greggs should receive £2.5m.
Carey-Evans continued: "Greggs' claim over Zurich also relates to a business interruption claim as the retailer had to close stores during the lockdown period. It is, therefore, similar to the legal cases seen in 2020 and shows that issues arising from the UK Covid-19 lockdowns are far from over.
"An initial boost in SME confidence in insurance can be explained by the courts enforcing payouts, but if disputes around business interruption persist, the industry's reputation could end up damaged."