The association has laid out a 10-step plan for the effective and safe legalisation of the micromobility vehicles in the UK
The Association of Consumer Support Organisations (ACSO) has called for e-scooters to be legalised so that an insurance framework can be developed around the micromobility vehicles' safe use on UK roads.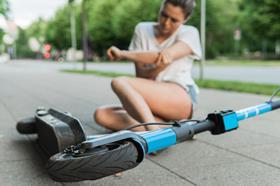 In its latest report – published today (25 July 2022) – ACSO laid out a 10-step plan for the safe and effective legalisation of e-scooters.
In point six of the plan, ACSO said that e-scooters must be insured as part of the legalisation process. It explained: "Accident data underlines the need for compulsory insurance. Failure to insure e-scooter riders risks a failure to compensate other road users for their injuries."
Privately owned e-scooters are currently illegal to ride on public roads in the UK. However, there is anecdotal widespread illegal use of the vehicles by members of the public and insurance provision for private e-scooters is presently unavailable.
Certain areas around the country allow for rental e-scooters to be operated, within the remit of a government-led trial. In these instances, e-scooters are permitted to be ridden on clearly defined public roads.
However, e-scooters participating in these trials are limited to 15.5 miles per hour and operators must provide a full or provisional driving licence before riding them.
Matthew Maxwell Scott, executive director of ACSO, added: "Those involved in e-scooter accidents have to deal with legal grey areas.
"It is very difficult to know if they can be compensated for losses that arise from their accident with vehicles not officially allowed to even be on the roads. It makes the claims process too complex and impractical as e-scooter use rises."
ACSO's report took evidence from mobility experts, such as British Cycling and the Parliamentary Advisory Council for Transport Safety (PACTS) - it said that policy decisions from government were needed to legalise e-scooters and build a regulatory framework around their use by the public.
Maxwell Scott added: "Legislation should require at least third party insurance for e-scooter riders, so that the infrastructure of claims and injury management can be created to support them.
"Thousands of people are using these machines on our roads illegally – that needs to change and fast."
Additional suggestions
In its 10-step plan, ACSO added that "the e-scooter genie is out of the bottle, so forcibly removing the hundreds of thousands of e-scooters ridden illegally on British roads is unworkable".
Maxwell Scott noted that there had been 390 serious injuries and 960 slightly injured casualties involving e-scooters in 2021, up from 129 and 354 respectively in 2020. Around 82% of e-scooter collisions last year involved privately-owned scooters, which currently are only legal to ride on private land.
ACSO's plan also included suggestions that road users should be educated on how to "co-exist with e-scooters" and that all e-scooters should be registered, to create a central database of owners.